Relaxing Vistas:  We have lots of lakefront with beautiful vistas of Katahdin, Maine's Highest mountain.  Find your spot in a wooden Adirondack chair on the water, enjoy a refreshing summer breeze, wake up early and bring your coffee down to the water to enjoy the sunrise.  We have fire pits down by the point also so you can come down at night and roast marshmallows and enjoy the spectacular night sky.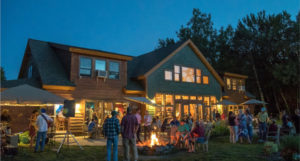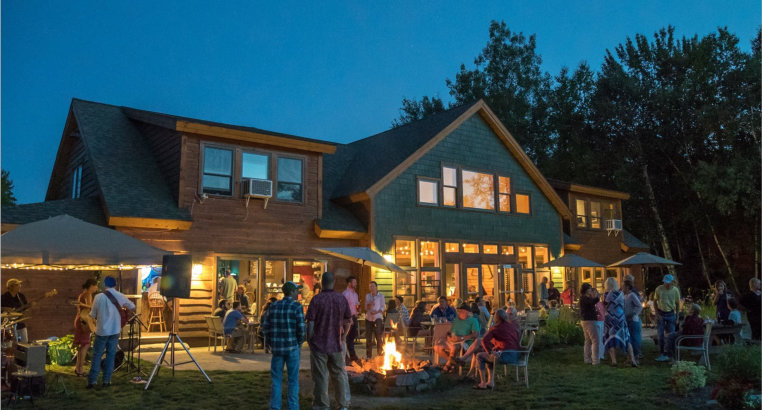 Dining: The River Driver's Restaurant is right onsite with great food. In summer you will see vegetables growing in the garden beds on property and where possible we source produce from local and in state suppliers.  Enjoy homemade Burgers, Lobster Bisque  and Blueberry Pie to name a few items on the menu.  207-723-8475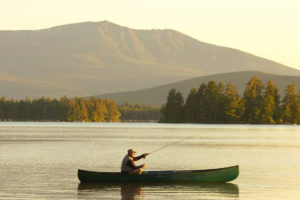 Fishing and canoeing are some of the many things that you can do onsite here at NEOC.  Even though the area offers a lifetime of adventures, you could just come and stay on-site and not leave the property for a week — no driving, no commuting, just walk from your cabin, hop in a canoe or Kayak, go fishing solo or bring your friends. It is up to you.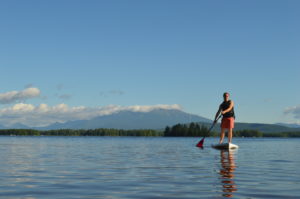 Paddle boarding:  Paddle boards are available at neoc.  You can rent them for a few hours, a 1/2 day or a day or longer.  It is a very fun way to discover the lake and you will enjoy it.  Kids love it also (remember you will all need to pack life-jackets).  Glide across the lake and skirt around islands.  Take note of the weather before you leave and ALWAYS let someone know where you are going.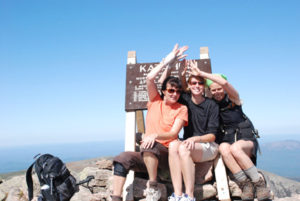 Hiking:  There are hiking trails onsite and hundreds of miles of hiking trails in the region.  Pick from the classic day hikes up Maine's highest mountain–Katahdin –or one of the other wonderful mountains in Baxter State Park; hike around Daicey Pond if you want something flatter and easier.  The Appalachian Trail, The International AT, the Debsconeag Lakes Wilderness Area, Nahmakanta Public Reserve, and Katahdin Woods and Waters National Monument offer plenty of other choices.  Or stay on site and hike or trail run on the miles of trials accessible right from your cabin here at NEOC.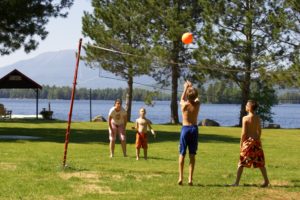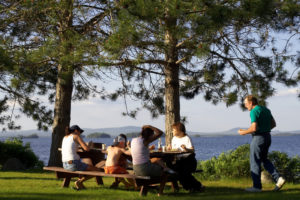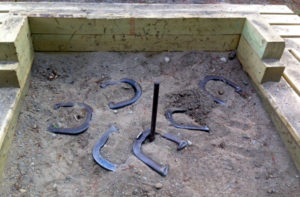 Play Volleyball with your Kids
Test your Skills at horseshoes
Sauna and Massage: In the Recreation Hall onsite there is a custom built dry sauna available for your use.  Also Katahdin Oasis Massage offers massage onsite in cabins by request or you can visit their location which is less than a 1/2 mile from your cabin.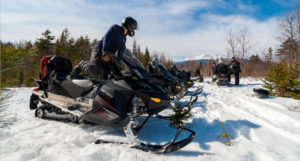 Snowmobile Trails and Rentals: We have the largest fleet of snowmobile rental sleds in Maine with hundreds of miles of groomed snowmobile trails accessible from your cabin.  We rent sleds by the day, 1/2 day or multiple days.  If you are new to snowmobiling or new to the area you can join us on a guided tour or have one of our guides head out with you or your group for the day.  We also rent snowmobile clothing so you will have everything you need for a warm day out in this beautiful wilderness. Find out more here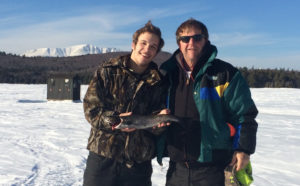 Ice-fishing: This is the stuff memories are made of.  Millinocket Lake has a number of species of fish in it. In the picture is a landlocked Salmon! a tremendous catch.  We have fishing guides who have all the gear available for setting up your ice-fishing trip. You will head out on the lake in front of the property and it may involve use of the ice shack – to keep warm and for refreshments. Find more information here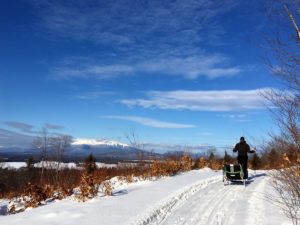 Cross Country Skiing: Not your average cross country ski trails.  The ski trails at NEOC were designed by master tail builder John Morton of Mortons Trails.  John was a 2-time Olympic Biathlon Team member and 5-time coach.  That translates to interesting and diverse trails that meet a wide range of skills and abilities and make for some beautiful and exciting adventures.  We also rent skis here; if you have been thinking about enjoying a private lesson, we can organize one for you.  Find More information here.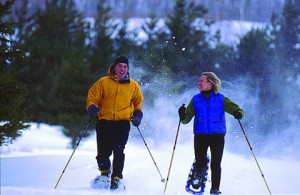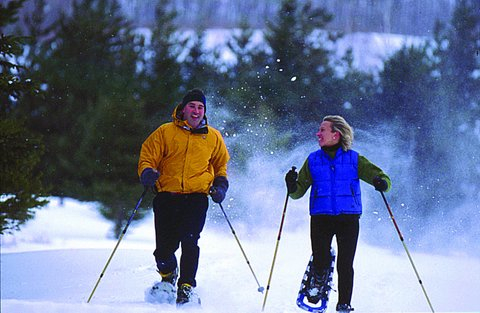 Snowshoeing: We can't think of many better ways than spending time outside when there is snow on the ground than snowshoeing.  The use of snowshoes is included with your stay with us here in wintertime. You can snowshoe right from your cabin to wherever you choose to go – follow our trails that wind through the woods and enjoy beautiful pine trees and nature at its best.