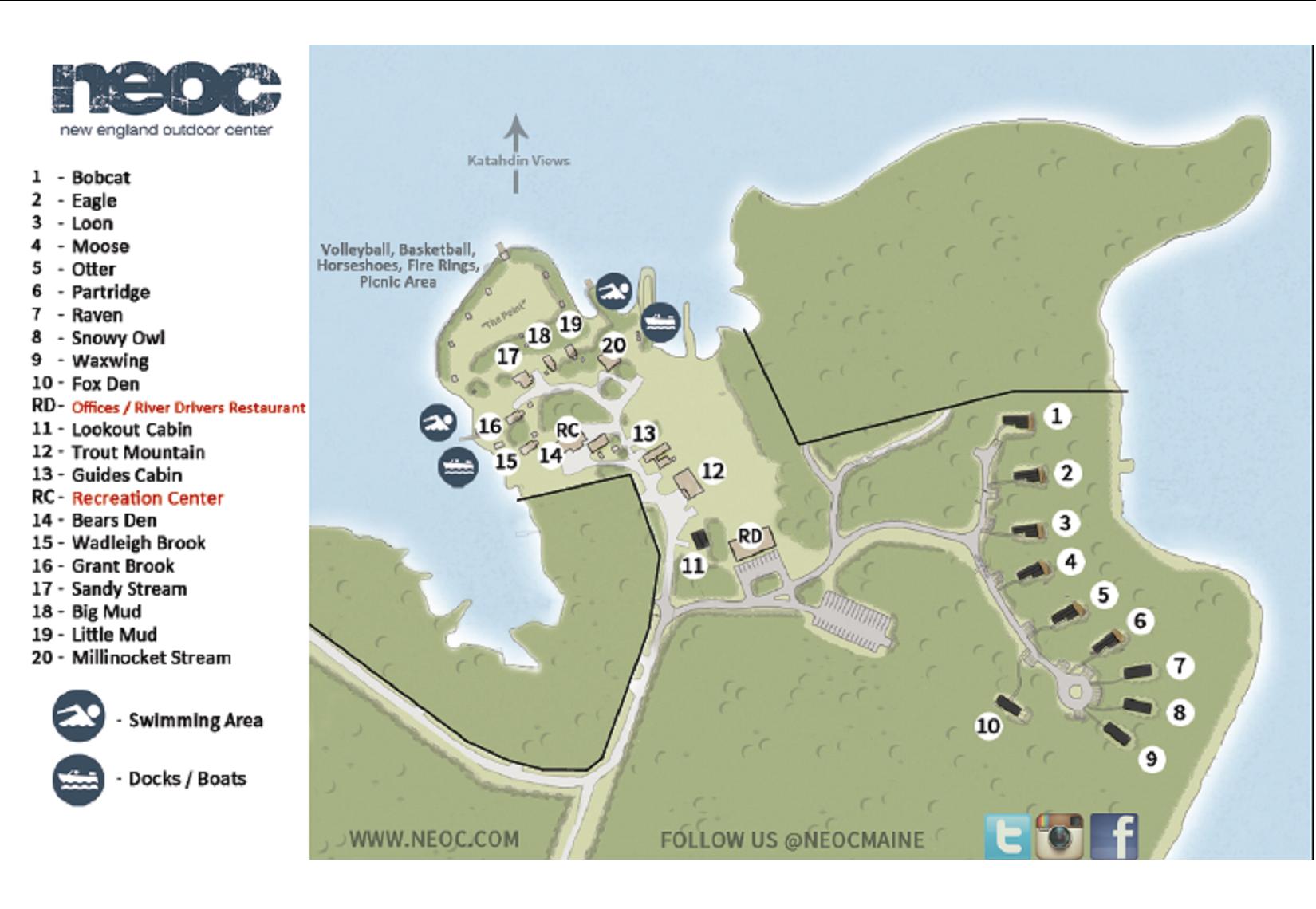 Camp, cottage, cabin, lodge ….we all have a name for the proverbial get-away. In Maine it is often referred to as a Camp, in Wisconsin a cabin, in New York a Lodge and in the Midwest a cottage.  Here at NEOC we have what we a combination of lodges and cabin rentals that offer plenty of space for relaxing family time for all your Maine lodging and family vacation adventures.
Cabin Rates - Rates Include Tax and Resort Fee (as of Dec 14 2017)
Cabin Style
1
2
3
4
5
6
7
8/+/pp
Fox Den
291
296
302
307
-
-
-
-


Small (Wadl./Grant/Big/Little)
291
296
302
307
346
384
-
-

2 Bedroom Lodge

413
419
424
429
468
506
544
582


Large Cabin (Sandy, Guides)
469
474
480
485
491
496
534
+$38/


3 Bedroom Lodge
623
629
634
640
645
651
710
+$59/


Premium (Bears/Lookout)
728
734
739
744
750
755
761
+$38/


Premium (Millinocket/Trout)
728
734
739
744
750
755
761
+$38/


*(Prices are flat rate and per night)
If you long for space, space to spread out, space to relax, space to explore and plain old space to just be, then not only will you find that in the natural landscapes of the Katahdin Region, but also in your very own private cabin rental. Nestled amongst the pines on Millinocket Lake, you can experience Maine lodging at its finest, overlooking Katahdin, Maine's highest mountain.
Are you staying for a night or for a week? Are you a couple, a family of four or a large group? There are a number of styles and choices to accommodate all your vacation needs.
Choose comfortably rustic lakeside cabins or go green with our luxury lodges, a tribute to environmentally thoughtful Maine lodging. All our cabin rental options exemplify quality Maine lodging and include a variety of amenities:  wireless internet, full kitchen, linens, towels, coffee and on-site dining.
Our cabin rentals are situated to showcase Maine's natural beauty and allow guests easy access to experience the adventure of white water or smooth water rafting, miles of snowmobile trails, abundant moose and wildlife encounters close-up and breathtaking views of Katahdin.
We encourage our guests to book vacation packages early as possible. Weekend dates and holidays will sell out fast! Book today, call 1-800-634-7238.
Our cabins in Maine are very popular with families, groups and individuals.  NEOC has reviewed by a number of top travel sites including Fodors, Outside Magazine, and Yankee Magazine.  We love to have you visit and stay a while - come back and bring your family and friends.
Take a peek at a this map of our site to find your cabin location
- Click here for a pdf NEOC Lodging Map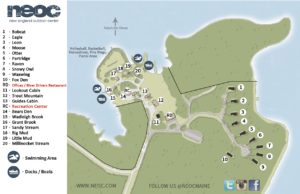 Lodging in Maine, NEOC Resort & The Katahdin Region
Cabins For Rent

The charming and cozy appeal of a classic Maine sporting camp with spectacular views of Katahdin.
Two and Three Bedroom Lodges (green lodging) at Twin Pines on Millinocket Lake -
Reduce your stress and "Go Green" (Leadership in Energy and Environmental Design.) Our luxury lodging provides amazing views of the cove and Millinocket Lake.
(Full-service lakeside loding...)
Penobscot Outdoor Center Campground - Closest Camping to Baxter State Park

This spacious campground offers classic Maine lodging options with campsites and cabin tents on Pockwokamus Pond with breathtaking views of Katahdin, conveniently located 2 miles before Baxter State Park.
(Campsites and cabin tents...)
Featured Cabin with Video Tour
Bears Den Premium Cabin
Bears Den rental cabin is located on the point and features great views of Katahdin. The cabin features stunning woodwork and comes completely furnished with leather furniture, Queen-size beds, private bedrooms, bathrooms, a modern kitchen and large dining areas.
Bears Den is one of three Premium Cabins which sleep 12 to 14.
Video Tour
Save
Save
Save
Save