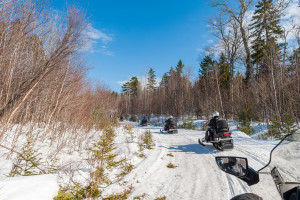 Get Out of Work Early Package:   Get out of work early and get as much Maine snowmobiling as possible. 2 nights of lodging in a cabin at NEOC/Twin Pines, pick up your sled any evening at 4pm and return 2 days later at 5pm. Starting at $664 per person based on 4 person minimum and dependent on dates and days of travel.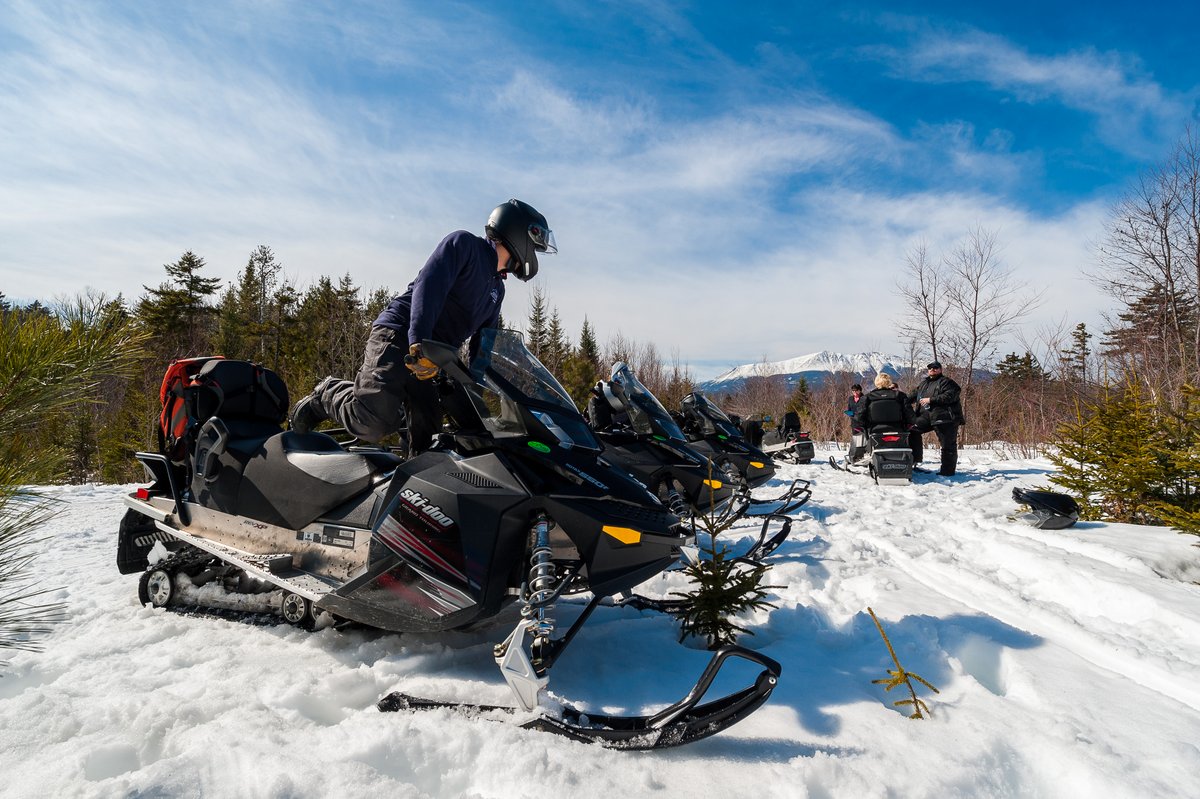 2 nights of lodging in a cabin at Twin Pine Camps and 2 full day sled rentals. Starting at $459 per person based on 4 people (Available midweek Dec – Jan 31st & March 1st – end of season).
(Package prices above already reflect the discount and do not include tax. Packages are per person in a small cabin. We offer packages for any size group. Lodging is at Twin Pines on Millinocket Lake which is trailside to ITS-85/86.  Add a meal package to any of the above: Includes 2 breakfasts & 1 dinner at the River Driver's Restaurant for $49 per person
Sled Rentals And Tours
GUIDED SNOWMOBILE TOURS: We recommend guided snowmobile rides for beginner or novice riders who are new to the sport, or for experienced riders who want to be shown the best places to ride on and off the trail. Stop on the trail to enjoy the beauty of the Maine wilderness, have lunch at a cozy trailside lodge while enjoying a guided ride and experience the peace of mind and unique riding opportunity that comes with traveling with an experienced Registered Maine Guide.
PRIVATE SNOWMOBILE GUIDE: $275 per day - this is for the guide and guides sled only.  Participant sled must also be reserved or provided.  Custom private trips available any day with advanced reservation.(1 to 6 riders for 6 to 8 hours. Required Ratio Maine Guide: guest is 1:6)
Starting at $275/day call 800-766-8238
GT Sport 600 ACE RENTAL SPECIAL: The Grand Touring Sport 600 ACE: 4-stroke engine, about 28 mpg, 60hp - a quiet, efficient sled with a clean-burning engine.   The Ski-Doo's SC-5 rear suspension moderates bumps and keeps both front and rear passenger pretty comfortable. This model has heated rear passenger grips with air deflectors to keep the second rider more comfortable.Save Big!!! 2.5 days of riding. Check out sled between 5pm and 6pm.
3-hr Guided tour: Starting at $169 for a 3-hour tour. This is a great introduction to snowmobiling and the the trails in the area.  Additional charge for Saturday tour. Saturday tours based on availability only.
$169/1 person | $199/2 people on 1 sled
Tours leave daily - call 800-766-7238 to reserve.  Usually tours leave at 9am or at 1pm
Some of our weekend deals and specials offer incredible value - Call NEOC today at 1-800-634-7238or book here online

GTX REV 550 RENTAL SPECIAL: The Grand Touring 550 is a 2-up grand touring long-track with electric start, push button reverse, heated hand & thumb warmers and heated helmet plug in (for driver).  The storage compartment has enough room for a bottle of water, snack, map and cellphone.  There is a luggage rack on the back to attach additional gear
Save Big!!! 2.5 days of riding.  Check out sled between 5pm and 6pm.