Snowmobiling in Maine with NEOC
Welcome to  Your Maine Winter!
We are glad you have found us.  During the winter months, northern Maine gets about 100 inches of snow, making The New England Outdoor Center in Millinocket home to some of the best snowmobiling in Maine, trails and winter activities. Winter 2017 is off to an excellent start and we have a lot of options for you, your family and friends.  We groom the snowmobile trails in the Katahdin Region right from our location on Millinocket Lake, what that means for you is that you can pretty much ride out from here and go north, south, east or west, your choice.  If you need a rental sled, we have you covered with the largest fleet of rental sleds in Maine and an inventory of sleds that is continually updated. Find Out Rental Information Below.
Our Fleet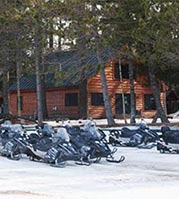 We have the largest fleet of Ski-Doo sleds in Maine! At the New England Outdoor Center, we make renting a snowmobile in Maine easy. Whether you're going to be riding one of our snowmobile trails for the first time or if you're looking to tackle some of the best snowmobile trails in Maine, we have the sled to fit your needs. Our full fleet of Ski-Doo snowmobiles features high performance and touring sleds available in singles and doubles.
Grooming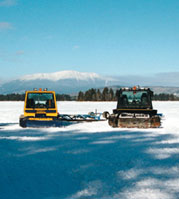 Do you dream about waking up to freshly groomed snowmobile trails? We do too. We believe the best snowmobile trail conditions in Maine are right here in the Katahdin region. To enjoy a fun and safe snowmobiling experience, we offer easy access to many of Maine's well-maintained and clearly marked trails. Many snowmobile enthusiasts travel thousands of miles to ride our trails.
Trailside Lodging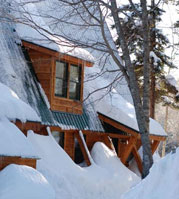 We want your winter adventure and Maine vacation to be the kind you remember for a lifetime. Our resort in the Katahdin Region is located just steps from Maine's best snowmobiling trails, winter activities, local scenery and wildlife. Our location offers cozy lakeside cabin rentals that are perfect for a winter vacation in Maine. These charming cabins are available in a range of sizes and styles, from log cabins with bunk beds to larger luxury guesthouses for a family vacation in Maine during any season.
Rates & Specials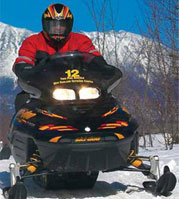 Why rent a snowmobile from NEOC? Much like our trails, we make it as smooth as possible. Our snowmobile trips are designed with safety in mind and to make you feel comfortable and confident about your riding experience and help you to understand the importance of proper trail etiquette.
We offer a full line of comfortable, warm, rental clothing. Because of our commitment to safety, each sled rental includes a helmet that is required to be worn at all times.
The things you need for riding are actually right here on site – we have gas for sleds, warm heated cabins, an award winning restaurant on site and hundreds of miles of snowmobile trails all easily accessed from our central location.  All you will have to do is decide where you want to go and we can help you with that also.  The trails in the area are generally groomed very wide and the trail network is one of the most popular in state.  Katahdin, Maine's highest mountain is an awesome backdrop and actually helps in the snow creation and weather patterns for the area in general.