Frequently Asked Questions
Need help? Be sure to check the answers below or contact us if you need additional help.
The New England Outdoor Center, River Driver's Restaurant and Twin Pines are located on Millinocket Lake, 8 miles north (nnw) of Millinocket ME. Exit 244 off of I-95 North. About a one hour and fifteen-minute drive from Bangor, Maine
The Penobscot Outdoor Center is located 15 miles north of Millinocket ME. Exit 244 off of I-95 North. About one hour and thirty-minute drive from Bangor, Maine
Pets are allowed at NEOC/Twin Pines on Millinocket Lake - there is a $20/pet/night charge for pets.
Pets are NOT allowed at our campground the Penobscot Outdoor Center "POC" due to the remote nature of the campground, and the proximity to Baxter State Park (where pets are not allowed).
What is in the Cabin Kitchen
The kitchens in the cabins at NEOC come equipped for you to cook and enjoy your time here.  They have cups, plates, silverware, pots, pans, salt, pepper, coffee maker, coffee for 1-2 pots, paper towels, dishcloths, dish-washing liquid, electric oven and cook-top, refrigerator, trash container with bags, and some have dishwashers. There is a restaurant on-site -- the River Driver's Restaurant -- where you can enjoy a meal if you choose not to cook.
Check in Time at NEOC and POC is 3pm
Check out Time at NEOC and POC is 10am
Early Check in and/or Late Check Out
Check in time is at 3pm - sometimes it is possible that your cabin may be available a little earlier in the day.  You would need to call us at 800-766-7238 and verify if that is the case on the day of your arrival.
Late Check out - may be possible depending on the cabin turnover. You would need to check in with the front desk on the day of your departure to determine if that is an option.
What Should I Bring to NEOC?
The cabin has a full kitchen set up, towels, sheets, blankets and so on. Bring a flashlight for walking outside after dark. Not all cabins have TV's so you may want to consider that while selecting a cabin if you are considering night time interaction and entertainment.
Summer: You should bring warm clothes for the evenings as Maine gets cool in the evenings most of the year-round. Bring a swimsuit, good outdoor shoes for walking in, food, snacks, whatever special treats you need, including a good book or three depending upon how fast you read.
Fall: Warmer clothes, boots or shoes for Hiking and all of the above
Winter: Pack good outdoor winter gear including jackets, gloves, boots, and hand warmers.
Spring: There is snow on the ground in early spring and while late spring can be muddy or gloriously dry, so bring good outdoor gear including warm clothes for being outside.
What Activities are Available at NEOC
Summer:
Fat Bikes are available for Rent to use on the Katahdin Area Trails (KAT) Hammond Ridge System which is adjacent to NEOC and accessed from the Main Parking Lot. ($) Biking is free if you bring your own bike.
Swimming in Millinocket Lake - free
Hiking or running on KAT Trails - free
Moose and Wildlife Tours in the morning and evening ($)
Whitewater rafting - ($) from our POC base that is 5 miles from NEOC
Canoes & Kayak rental - Included with your stay - free
Paddle-board Rentals - ($)
Recreation Hall (table tennis, TV, board games) - free
Sauna - dry Sauna in Rec Hall - free
Fishing - free - but you will need to have a fishing license from IF&W and bring a pole, etc
Campfires - free, wood for use onsite is included, please pack s'more ingredients if you want them.
Can I rent a Boat on Millinocket Lake?
We do not rent motor boats on Millinocket Lake - the lake is rocky in places. You can rent our pontoon boat with a guide for a few hours if you wish to explore the lake. Our guide will drive the boat. Call 800-766-7238 for info.
The use of Canoes and Kayaks is included with your stay and they are down by the beach - please fill out a release form before you head out on the lake and let us know that you are heading out AND when you return.
There is wi-fi on site and it comes in via satellite. The service is inconsistent and does not allow for uploads or downloads of Movies etc.  Most of the cabins have some Wi-Fi however the signal is strongest in the main building/River Driver's building.
How good the service is depends on the strength of the incoming signal (ie clouds, rain, heat all impact this) and the number of people using their devices in the main building (eg if there are 80 people in the restaurant building eating dinner and using their phones it weakens the available service).
Dark Night Sky - Bring A Flashlight
Both of our locations are dark at night - you should pack a flashlight for walking around afterdark at either location
What Amenities are in the Cabins at NEOC
Kitchen Amenities are answered above.  Cabins have sheets, blankets, trash-bags, coffee for one or two days.
Outdoor Gas Grills are at almost every cabin.
All Cabins are heated.
The Lodges - Cabins 1-9--have propane burning stoves, Loon - cabin 3 - has a Wood Burning Stove.
Millinocket Stream, Grant Brook, Wadleigh Brook and Fox Den have propane burning stoves.
NEOC/Twin Pines and the River Driver's restaurant are located on Millinocket Lake and Yes you can swim in the lake.
Hairdryers at NEOC are available by request at the front desk.
Our Campground, The Penobscot Outdoor Center --"POC"-- is remote and off the grid. You will need a flashlight, headlamp, warm clothes for night time. It is generally carry in and out so whatever food or other items you need to consume while you are traveling you should also pack - food, water, towels, change of clothes, bag for trash, sleeping bag, bug spray, battery pack, shoes, hiking boots and so on
Do cabins have a View of Katahdin?
Millinocket Stream (best view)
Trout Mountain - from the living room
Lookout - from the living room - although it is across the main campus over other buildings and somewhat obscured by trees
Big Mud and Little Mud - some view
Sandy Stream - some view with trees in the viewshed
What Amenities are in the Bunkhouses at POC
The bunkhouses at POC have 4-5 single cots in them and very little else. They do not have a power source; they are wooden buildings with a metal roof, a window, and a door.
You can swim in Pockwockamus pond, but generally, we do not recommend it as there tend to be leeches in the water.
Canoes are available at the dock for your use and they are included with your stay.
If you do get a leech on you - not a big deal, treat it gently and use your thumb nail to scrape up along your skin underneath where it is attached and you should easily be able to remove it. Do not use salt on the leech - it will cause it to retch/throw up into your blood stream, which it really would prefer not to do 🙂
The Northern Lights are actually the result of collisions between gaseous particles in the Earth's atmosphere with charged particles released from the sun's atmosphere. Variations in color are due to the type of gas particles that are colliding. The most common auroral color, a pale yellowish-green, is produced by oxygen molecules located about 60 miles above the earth. Rare, all-red auroras are produced by high-altitude oxygen, at heights of up to 200 miles. Nitrogen produces blue or purplish-red aurora.
They can be visible over Katahdin from time to time.  However, they are most readily visible through the lens of a camera versus with a naked eye.
At NEOC - the use of canoes and kayaks are included with your stay. Please fill out a release form at the front desk before you head out on the lake and wear a life-jacket - which you will find next to the beach area.
If the lake is choppy, it means the winds are blowing 12-15 mph or higher and we do not allow people to use boats/kayaks at that time due to the high likelihood of the boat taking on water or tipping or getting blown across the lake. We can tell you the weather forecast at the front desk which will help advise your decision.
Check-in with the Baxter State Park Authority website for full information.  You will need a DUPR - day-use parking reservation which you can purchase on their website.
Summiting Katahdin - Parking Pass
If you plan to hike Katahdin you will need a "DUPR" or Day use parking reservation for one of the three Katahdin Trailheads - Abol, Roaring Brook or Katahdin Stream - they cost $5 and you purchase them from Baxter State Park.
https://reservation.baxterstatepark.org/reserve
Is my cabin close to the Lake?
Closest to the lake are
Millinocket Stream, Big & Little Mud, Sandy Stream, Wadleigh Brook, Grant Brook, Bears Den.
Guides, Lookout and trout are close but not immediately adjacent
The cove lodges and Fox den are a 3 minute walk from the beach and are close to the cove.
Katahdin is located in Baxter State Park. We are located 8 miles from the South Entrance to Baxter - the Togue Pond Gate.  There are three trailheads that you can park at to access Katahdin - Roaring Brook, Abol and Katahdin Stream.  You will need a parking permit to park at these trailheads.
Parking permits - Day Use Parking Reservation or DUPR cost $5 and can only be purchased from Baxter State Park:
https://reservation.baxterstatepark.org/reserve
How close are you to Baxter
NEOC is 8 miles to the south gate to the park - the Togue Pond Gate
POC is 2 miles from the south gate to the park - the Togue Pond Gate
For personal clothing on the river we recommend a bathing suit or shorts, sneakers or river sandals. Wool socks and polypropylene long underwear or fleece add comfort on cool days. (Do not bring cotton to wear on the river as it does not dry and you will be cold.) NEOC has plenty of cool weather rental wet suits, booties and spray tops to make you more comfortable and will advise you when you need them. At the base camp, or in your car, leave a towel and a warm, dry change of clothes including socks, shoes and underwear for post-trip showering and changing.
Whitewater Rafting Check-in Location?
For Camping and Whitewater Rafting with NEOC you will be going to our PENOBSCOT OUTDOOR CENTER location - click this link to get a google map or read the instructions
https://goo.gl/maps/3mTKdxT2FBZ5KXZd7
– Directions: Take Exit 244 off I-95. Take Route 11/157 west towards Millinocket. Follow 157 and signs to Baxter State Park.
Drive through Millinocket leaving town heading towards Baxter State Park – note that you will have "14" miles to drive to get to our rafting and camping base at the Penobscot Outdoor Center.  After 14 miles the driveway will be on your right and is marked/sign posted. Travel in this dirt drive about 1/2 mile to a parking lot.
Phone: 207.723.5438 or 800.634.7238 (year-round) or 207.723.3580 (summers only).
If you insist on using GPS:  Many GPS systems have outdated maps and incorrect addresses for us.  So here is one option to try:
FOR:  NEOC Whitewater Rafting Base & Camping (aka Penobscot Outdoor Center)
We suggest entering 160 Bates Street in Millinocket, Maine.  This is the last general store you will pass on your way to us.  Once you get to this address – drive an additional 14 miles until you see a sign on the right hand side of the road that says "New England Outdoor Center" "Penobscot Outdoor Center" – take that right turn and follow the dirt road for 1/2 mile to our main parking lot
GPS: Latitude: 45.726778 | Longitude: -68.81912
What trails are you near?
Katahdin Area Trails trailhead is accessible from the parking lot and offers walking, hiking and running trails including a just completed 5-mile single track mountain bike loop.
All other trails are in Baxter or up the Golden Road - eg River Pond, Horse Race Pond.
Snowmobiling trails are accessed from next to the main River Driver's building as you head out Blackcat Road towards Millinocket.
Snowmobiling - Gas for Sleds?
Gas for sleds is available onsite adjacent to the River Drivers building
Snowshoes are available at the front desk
Find a map here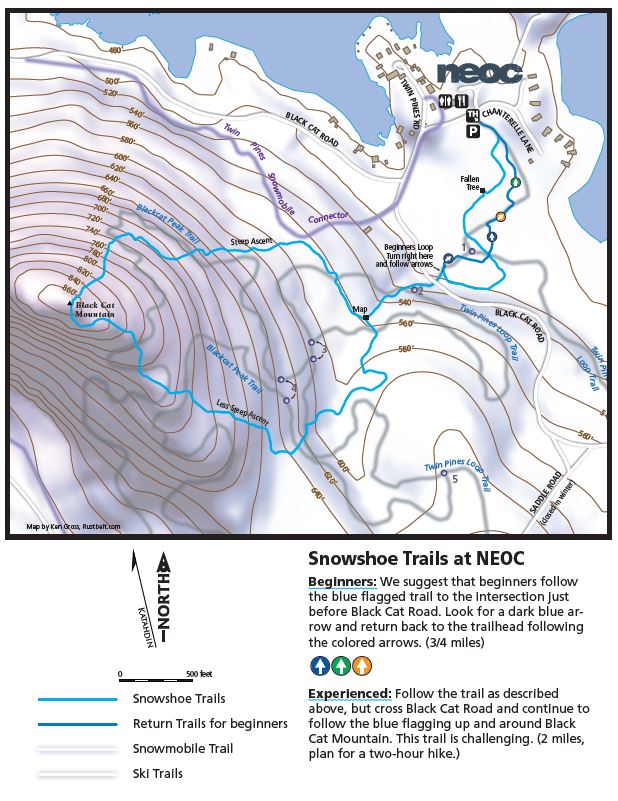 Snowmobiling - Sled and Gear Rental
Find links to Sled and Gear rental here:
Taxi services in Millinocket -
Bull Moose Taxi (207) 447-8079
Pamola Shuttle   207 731-6663