Morning Tours begin at 9 AM | Afternoon Tours begin at 1 PM.
Why Book a Guided Tour?
On staff, we have several Registered Maine Guides that will be with you on your guided trips, and they help take the guesswork out of your day.  A day in the Katahdin Region in Wintertime is exhilarating and breathtaking but you need to be well prepared as it is a wilderness area. Snowmobiles are recreational vehicles and are used in climate conditions that are often extreme... The open air and speed of the snowmobile can be exhilarating, but they also can be dangerous.
Our famous 3-hour tours are perfect for the novice rider or anyone who is looking to explore new scenery.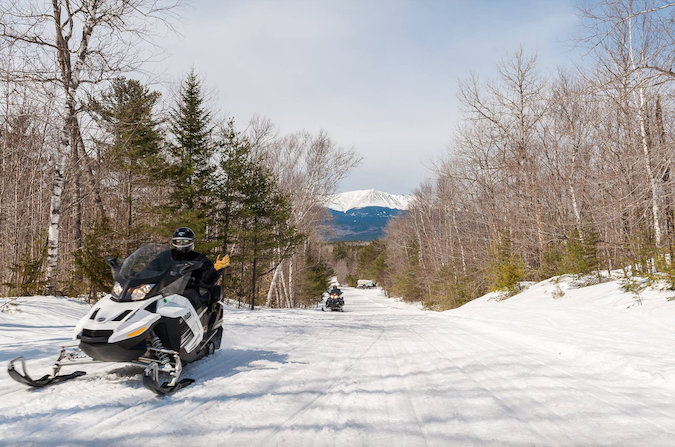 -Single Rider 3-Hour Tour-
1 Person - 1 Sled
Helmet Included
Learn How to Ride a Snowmobile
Learn the Trail System
Option of Morning Tour or Afternoon Tour
Choice of Ski-Doo Machine Rental
Starting at $339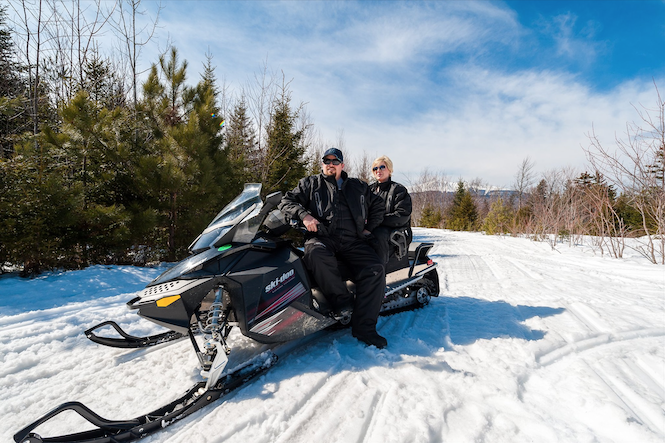 -Double Rider 3-Hour Tour-
2 People - 1 Sled
Helmets Included
Learn How to Ride a Snowmobile
Learn the Trail System
Option of Morning Tour or Afternoon Tour
Ski-Doo Grand Touring Sport 600 ACE
Starting at $359
Need to Rent Snowmobile Gear?
While it is cold out there, don't fret! If you find that you don't have the right gear for sustaining a winter day in Maine, we have a full stock of snowmobile clothing available for rent.
PLEASE NOTE that your helmet is included with your snowmobile rental.


Balaclava Face Masks are available for purchase at our Front Desk. 
What's Included in Every Snowmobile Tour?
Your tour includes your snowmobile rental, a helmet, and a Registered Maine Guide

All snowmobiles leave our property with a full tank of gas, and full oil

Instruction on how to operate your rental

Snowmobiling is a cold sport, so you will need specific gear for sledding. We rent bibs, jackets, gloves, and boots and HIGHLY recommend getting the gear if you do not have gear.  We do not generally recommend skiing gear as it tends to be lighter weight and may smell from gasoline after time out on the sleds.
What's not Included?
Gratuity for Guides, Shuttle Drivers

All snowmobiles must be returned with a full tank of gas (Gas on-site for purchase)

All snowmobiles must be returned in same condition they left in
Additional Information:
Renters: MUST be 18 years or older with a valid drivers license.
Passengers: MUST be 9 years or older.
To rent a snowmobile, a $1,000 security deposit hold on a credit card is required.  If the sled is returned in the same condition as when rented, this hold is released from the card.  Holds on Debit cards take longer to release, some banks also will not allow it.  Check with your financial institution prior to arriving.
Plan on arriving an hour before your tour or rental pick up (8 am for the 9 am tour or at 12 noon for the 1 pm tour).  There is paperwork to be filled out and a mandatory safety video. If snow conditions warrant, it may take you a bit longer than you anticipate getting here. Ideally, you will want time to put on your gear and be ready to start as close to 9 am as possible.
Guided tours leave most days with reservations in advance from our Adventure Center.
As required by our insurance company and Maine law, guests must watch a 15-minute snowmobile safety video. We encourage guests to arrive together to watch the video or

watch online in advance.