Maine Woods Photography Workshops -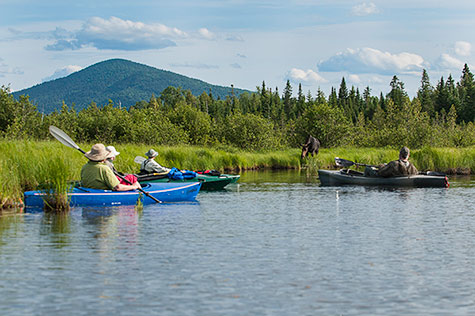 Maine photography workshops that combine a relaxing Maine vacation with a creative learning experience!
Maine Photography Workshops - All-inclusive Photo Workshops
Start June 24, 2021 - End June 27, 2021
Space is limited!
Due to COVID-19 we have made some adjustments to how we conduct the Maine Photography Outdoor Workshops.
As one of the few outdoor photography group workshops that took place across the country in 2020, we have developed what we consider to be best practices to ensure everyone remains healthy.
First, we are now offering both shared cabins at a discount for those traveling together, as well as single occupancy cabins at the regular rate for those traveling to the workshop solo. 
Social distancing and wearing of facemasks are required in all group photography workshop settings unless participants are in their own cabin, personal vehicle or on the water in an individual kayak. 
Breakfast and lunch meals are packed individually by the River Driver's restaurant staff, with the dinner meal served on the balcony allowing everyone plenty of room to spread out.
Also, unlike previous to COVID, each participant agrees to travel to and from shooting locations in their own vehicle.
Given our commitment to keep both participants and our community safe, we fully expect that these practices will be in place for 2021 workshops and may be amended to include newly issued State of Maine mandates such as pre-testing prior to traveling to Maine.
Finally, should the virus interrupt participants travel plans, we will gladly allow you to postpone participation for up to one year without loss of any registration fees.
So, without further ado, we invite you to safely...
Photograph during Maine's peak Moose viewing season in beautiful Baxter State Park, the nationally significant Katahdin Woods and Waters National Monument and along the fabled Golden Road in the Katahdin Region of Maine with Maine photography workshop leader Anita Mueller during this Mark Picard Wildlife Photography sponsored workshops and tour - now in their 18th year!
Maine Photography Workshops for all skill levels
All skill levels welcome! Regardless of your current skill level, you are guaranteed to learn new techniques while photographing both on land and on the water via kayak (flat water only, no prior kayak experience is necessary) as well as pontoon boat in the most remote and picturesque locations within the Katahdin Region of Maine.
Katahdin Region photography workshop leader and wildlife photographer Anita Mueller will teach you all the techniques and tricks she has learned photographing the wildlife and beauty of Maine's North Woods - many of which she has learned from partner Mark Picard. Expect to learn more than you thought possible about wildlife photography including anticipating subject movement and behavioral patterns of animals including Moose.
Maine Photography Workshops offered during peak viewing season
Spring Photography Workshop
Mid to late June in Baxter State Park, Katahdin Woods and Waters National Monument and the Katahdin Region in general, provides opportunities to photograph a world coming to life after a long winter. Picturesque indigenous wildflowers, rushing waterways, boreal birds, as well as other flora and fauna, including Moose and their newborn calves, provide abundant inspiration and opportunities to learn new photography skills.
Depending on the weather workshop week, plan to photograph by kayak , from a pontoon boat, as well as by passenger van during this Baxter State Park, Katahdin Woods and Waters National Monument and environs Maine photography workshop. Historically we have averaged between 15 and 20 Moose sightings during the June workshop with the high being 40!
For examples of subject matter photographed in June watch the video short below. Online registration is below the video and available on a first come first serve basis.
Save