Adventure in the shadow of Katahdin on the beautiful and wide ITS Snowmobile Trails.
All Snowmobile Rentals come with helmets.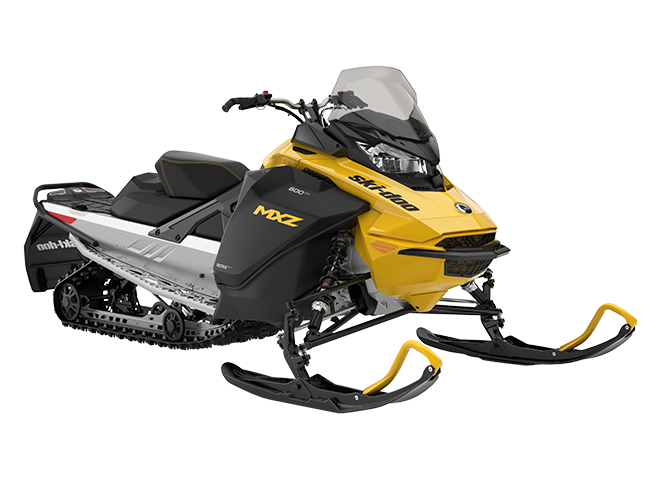 The Ski-Doo MXZ Sport 600 delivers a liquid cooled 2-stroke engine, is a dynamic trail performance sled with value-oriented features and a confidence-inspiring ride. An overall sled that's heavy on the fun!

Single Rider Only
·Half-Day Rental: $259
·Full-Day Rental: $329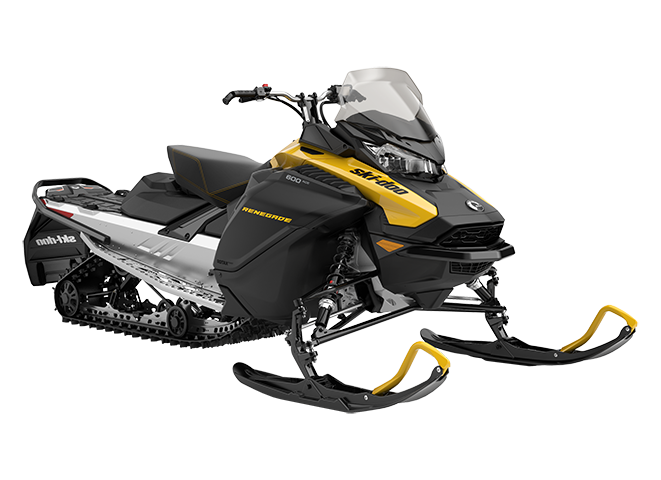 The Ski-Doo Renegade Sport 600 ACE delivers a liquid cooled four-stroke engine, built with value-oriented features delivering exceptional handling, performance and ride quality wrapped in a sled that will have you hooked from the very first throttle squeeze.

Single Rider Only
·Half-Day Rental: $259
·Full-Day Rental: $329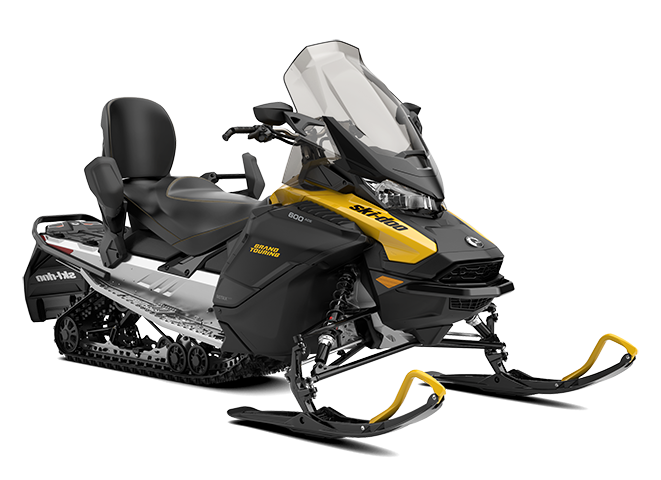 Ski-Doo Grand Touring Sport
The Ski-Doo Grand Touring Sport 600 ACE delivers a liquid cooled four-stroke engine, easy user handling, and is a pleasant riding touring sled for any long-distance trail ride. Savvy style and handling meets 2-up trail comfort. Both pilot and passenger enjoy precision performance that inspires more excitement and new adventures on the snow.

Single or Double Rider
·Half-Day Rental starting at: $279
·Full-Day Rental starting at: $349

Need to Rent Snowmobile Gear?
While it is cold out there, don't fret! If you find that you don't have the right gear for sustaining a winter day in Maine, we have a full stock of snowmobile clothing available for rent.
PLEASE NOTE that your helmet is included with your snowmobile rental.


Balaclava Face Masks are available for purchase at our Front Desk. 
What's Included in Every Snowmobile Rental?
Your snowmobile rental and a helmet

Instruction on how to operate your rental

All snowmobiles leave our property with a full tank of gas and full oil

Snowmobiling is a cold sport, so you will need specific gear for sledding. We rent bibs, jackets, gloves, and boots and HIGHLY recommend getting the gear if you do not have your own gear.  We do not generally recommend skiing gear as it tends to be lighter weight and may smell from gasoline after time out on the sleds.
What's not Included?
Gratuity for Shuttle Drivers

All snowmobiles must be returned with a full tank of gas (Gas on-site for purchase)

All snowmobiles must be returned in the same condition they were in when they left the premises.
Additional Information:
Renters: MUST be 18 years or older with a valid driver's license.
Passengers: MUST be 9 years or older.
To rent a snowmobile, a $1,000 security deposit hold on a credit card is required.  If the sled is returned in the same condition as when rented, this hold is released from the card. Holds on Debit cards take longer to release; some banks will not allow it.  Check with your financial institution prior to arriving. Cash is acceptable. 

Half-Day snowmobile rentals are available on Saturday but at our Full-Day Rate.

$75/hr. Late Fee - Per Snowmobile - on all late returns. 

Plan on arriving an hour before your tour or rental pick up (8 am for the 9 am tour, or at 12 noon for the 1 pm tour).  There is paperwork to be filled out and a mandatory safety video. If snow conditions warrant, it may take you a bit longer than you anticipate to arrive. Ideally, you will want time to put on your gear and be ready to start as close to 9 am as possible.
Guided tours leave most days with reservations in advance from our Adventure Center.

As required by our insurance company and Maine law, guests must watch a 15-minute snowmobile safety video. We encourage guests to arrive together to watch the video or

watch it online in advance.
Sleds to Millinocket Hotels, Medway: $100 round trip for the first sled, $25 for each additional sled on the same shuttle and same party. Call 800-766-7238 to reserve.
Shuttle people and gear from Abol parking lot to Baxter State Park Gate or from NEOC to Baxter State Park Gate: $275 each way for the first 2 people, $50 for each additional person on the same shuttle. Call 800-766-7238 to reserve.
For any unexpected repairs, we also offer access to an on-site heated garage. For your convenience, there is a snowmobile repair shop within 20 miles that has mechanics on-site to get your own personal snowmobile back on the trails.
Call 1-800-766-7238 to ask us about the current weather conditions and to customize your perfect snowmobiling experience, or book online!