Whitewater Rafting in Maine, how about it?
The Penobscot River is an epic river with over 11 named rapids ranging from Class I-V.  Penobscot River rafting is not like rafting on other rivers; each river has its own unique features, but the Penobscot is the most challenging and most consistently run. Raft through the beautiful Ripogenus Gorge, catch stunning views of Mount Katahdin and spot native Maine wildlife such as eagles and moose.
Let's make this an adventure to remember.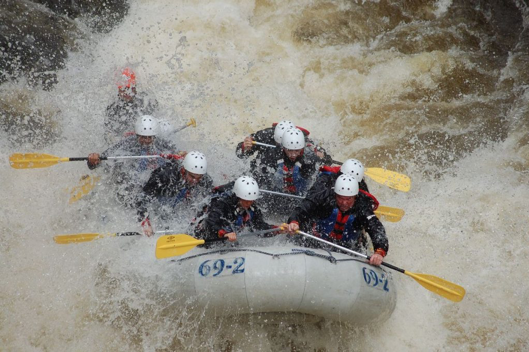 -The Penobscot Adventure-
Adventure Rating – Wicked Wild
Class II-V Rapids
Check In – 9:00 am
Age 15+
Full Day, Full River Trip
Trips Run Seven Days a Week
Cookout Lunch
Starting at $89/pp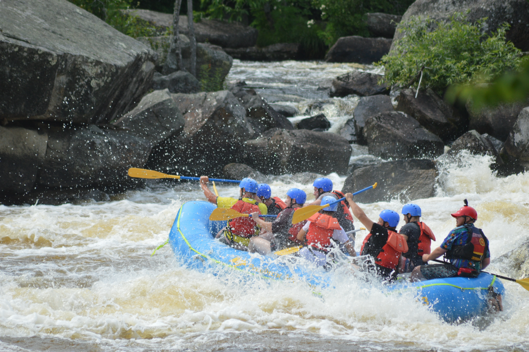 Adventure Rating – Wicked Wild
Class IV-V Rapids
Check In – 8:00 am
Age 15+
Full Day - Two Runs of the Class V Section
Trips Run Saturdays & Sundays
Cookout Lunch
Starting at $129/pp

Adventure in the shadow of Katahdin on the Penobscot River this summer.
Lower River Penobscot Trips are a bit milder, and are an excellent way to experience the river.
We highly suggest these trips for first time rafters and families!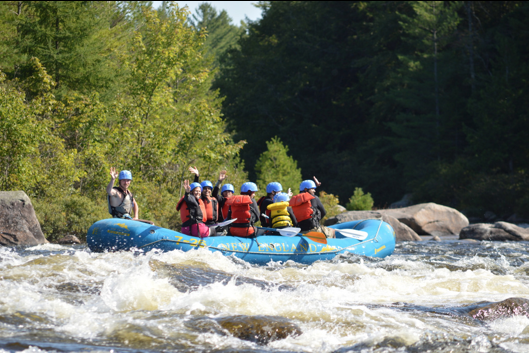 Adventure Rating – Very Mild
Class I Rapid
Check In – 9:00 am
Age 4+
3 - 3.5 Hour Trip
Trips Run Wednesday, Thursday, Friday, Sunday
Cookout Lunch
Starting at $79/pp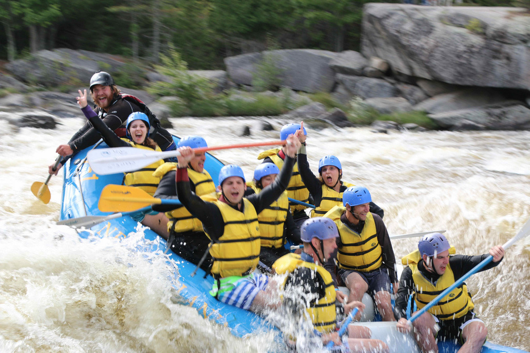 Adventure Rating – Wild
Class I-IV Rapids
Check In – 9:00 am
Age 12+
Half Day Trip
Trips Run Tuesday through Sunday
Cookout Lunch
Starting at $89/pp
What's Included in Every Raft Trip?
An awesome bus ride up and down the Golden Road
Hot and delicious river lunch
The best Guides who live, eat, and breathe the Penobscot River
Post-trip photo presentation (can purchase images on-site or online)
What's Not Included?
Taxes and River Access Fees
Gratuity for Guides, Bus Drivers
The sweet NEOC branded gear you get to wear all day long
Photo Opportunities:
Share the best of the best with family and friends! At the New England Outdoor Center you are able to purchase photos of your whitewater adventure. Our digital photos are high resolution JPEG images. For more information call us at 1-800-766-7238, or click here!
All Photos of One Boat-$55.00 - Digital copies of all shots from your boat on a Flash Drive
Individual images: $15. Two or less images can be emailed, more than two images will be mailed to you on a Flash Drive.
Prices do not include tax or handling fee.  US: $5.00, Canada: $8.00 and Overseas: $12.00
Additional Information:
You Go Free! If you organize a group of 11 mid-week or a group of 16 on a weekend, you go FREE!
Private Raft: Do you have a party of 6 or 7 people and want your own personal raft and guide? For $10 more per person for 7 people or $15 per person for 6 people, you get just that - your own private raft and guide! (Not available for groups of less than 6 people.)
Learn More about the Penobscot River! 
Save
Save