Miles of Scenic Snowmobile Trails start in Millinocket
It's no secret that Maine has some of the best snowmobiling in the world, and the Katahdin Region is at the epicenter of the state's expansive system of snowmobile trails. Maine's Interconnected Trail System (ITS) includes 4,000 miles of uninterrupted trails and offers rides across Maine's most scenic landscapes, complete with moose, Canada lynx, black bear, bald eagles, and other wildlife. In fact, Maine has the biggest moose and black bear populations in the Lower 48, according to the Maine Department of Inland Fisheries and Wildlife.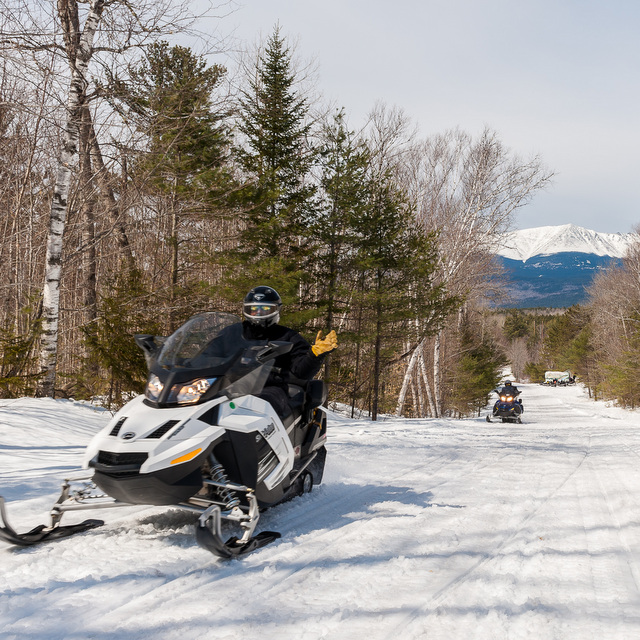 If you're looking for a perfect place to get out riding in some of Maine's most amazing snowmobile terrain, the Katahdin Region of Maine has it all and has long been a focal point for Maine snowmobiling. With the conveniences of Twin Pine / New England Outdoor Center (NEOC), you can enjoy the best of snowmobiling in Maine, without any of the hassle. Twin Pines was designed with the snowmobiler in mind and offers a range of snowmobile rentals, an amazing restaurant where you can enjoy a hot meal before heading out on the trail, comfortable lodging with wood stoves and full kitchens, and of course an easy place to fill your gas tank and get the latest trail conditions. Conveniently located trailside to ITS86 on Millinocket Lake, NEOC is the place to begin your snowmobiling adventure.
Explore the Great White North
Starting from NEOC, you can ride west toward Moosehead Lake, then on to Jackman-Moose River, continue to Rangeley,and go all the way to the New Hampshire border. Or you can head north right past Katahdin and Baxter State Park and into unlimited rides across Aroostook County.  There are several sporting camps along the trail where you can fill up your tank and stop for lunch. Maine's ITS gives you the ability to travel from region to region with a full range of services (and well-groomed trails) available along the way. Many of Maine's additional 10,000 miles of groomed trails also hook up with the ITS.There is no finer place on earth to snowmobile.
Snowmobiles Rentals

Need a snowmobile rental? NEOC has the largest snowmobile rental fleet in the state of Maine and is continually adding new sleds to its fleet. Each sled is maintained on-site by experienced staff who keep them running like a charm, and NEOC is a licensed, insured outfitter. Because of their commitment to safety, each sled rental includes the rental of a helmet, which is required to be worn at all times.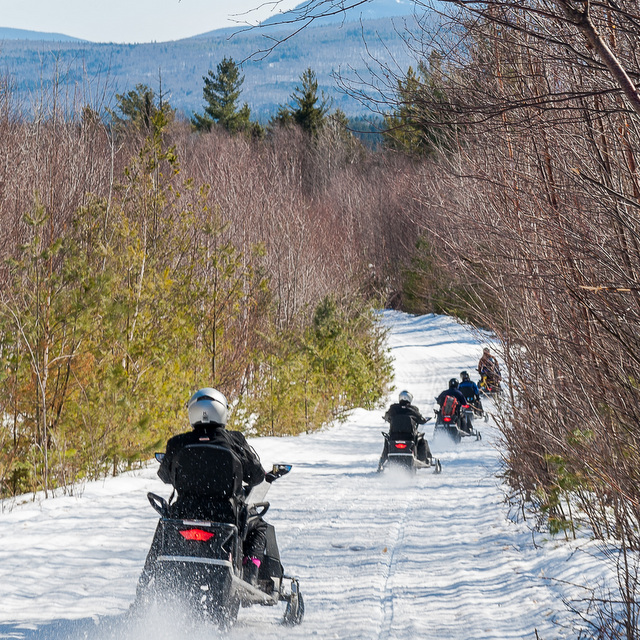 NEOC's snowmobile rentals have easy handling and pleasant riding for any long-distance trail ride. Among the offerings are a one or two-person Grand Touring Sport 600 ACE with a 4-stroke engine, and a potential 300-mile riding range. There are additional models too.
Need Snowmobiling Gear?
NEOC also offers snowmobiling gear in all shapes and sizes from XXS to XXXL. A helmet is included with every rental, but NEOC is committed to your comfort and offers bibs, jackets, boots and gloves for rent, plus they sell facemasks at the front desk.  Suffering is optional.
Hire a Snowmobile Guide
For those new to the area or looking to gain some local knowledge, NEOC offers guided day and overnight snowmobile trips led by experienced and knowledgeable staff.Teach your kids (or your spouse) to snowmobile and take advantage of guided sled tours for families and groups. Guided snowmobile trips can range from a day to extended trips of a few days and are an amazing way to enjoy the great white north with less of the planning and responsibility.
Reserve a Shuttle
For the convenience of its riders, NEOC offers shuttle rides for skiers needing them. Grab a shuttle to Baxter State Park Gate (and back again).
Resources/Learn More About Snowmobile Rentals
NEOC offers all of the amenities you will need for a great snowmobile adventure. Plus, they have a knowledgeable staff who can help make your snowmobiling quest a huge and memorable success.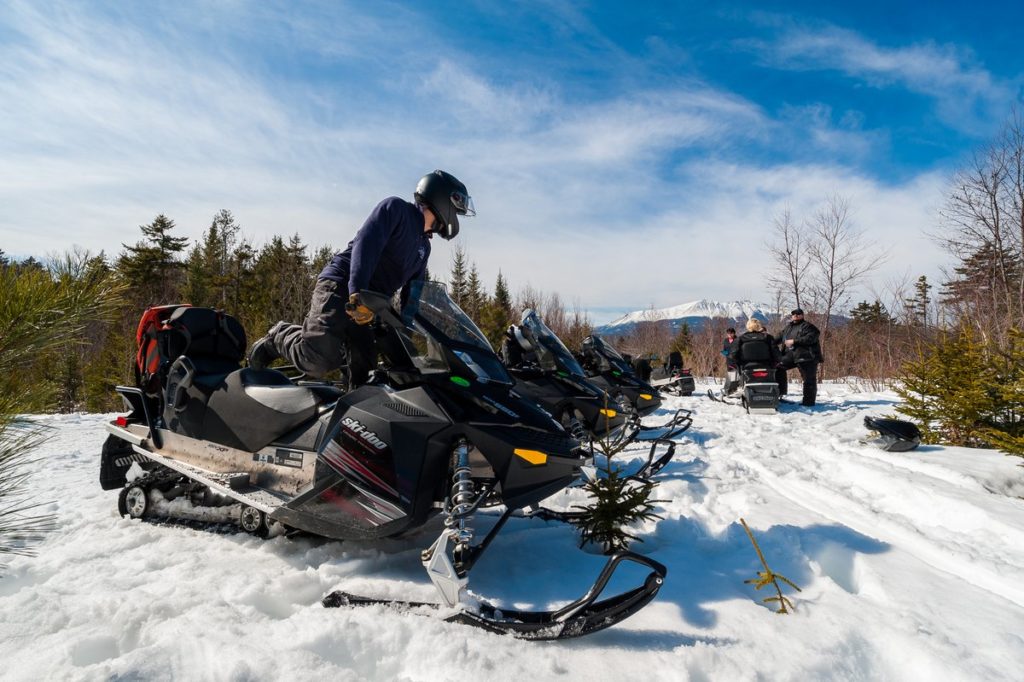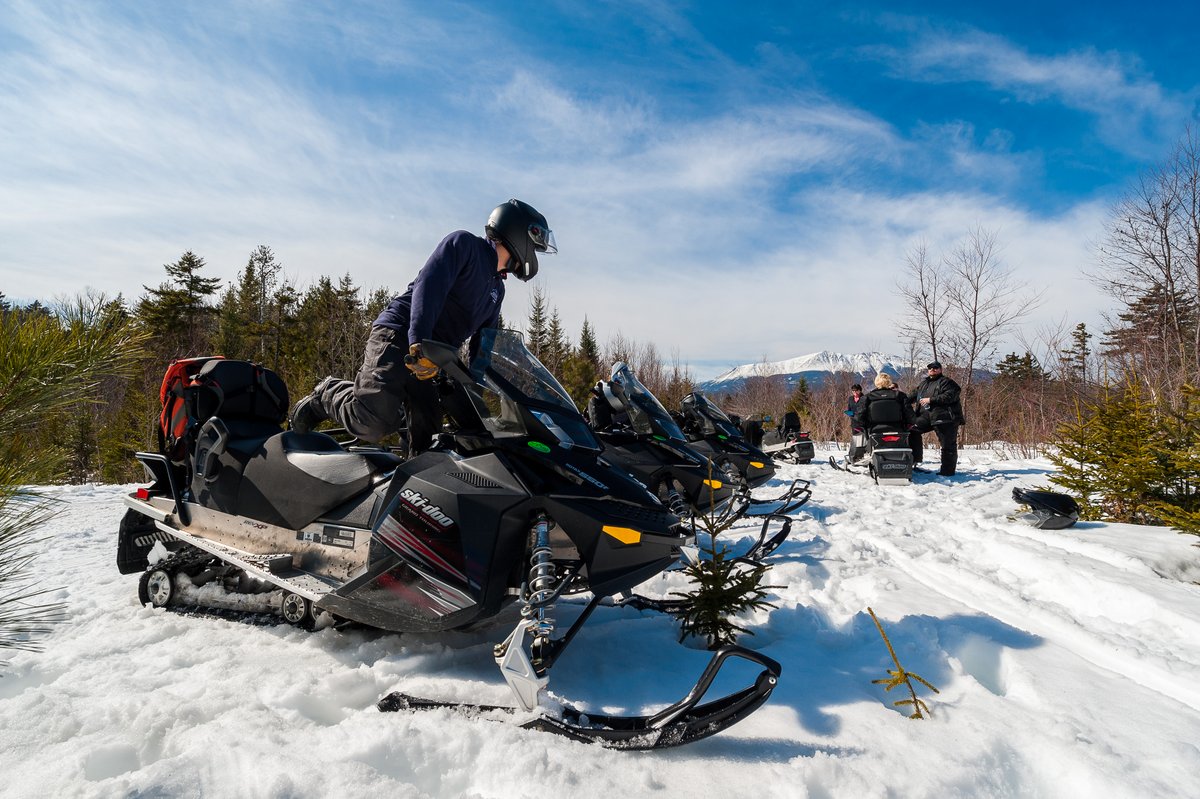 Book a snowmobile:
Get snowmobile reports:
Check out the ITS Map https://webapps2.cgis-solutions.com/mainesnowmobile/