Katahdin Region Snowmobile Trail Report – Scroll Down Page
Trail Report, 2018
Okay: It is time to clear up a few facts. First, a reminder, it is November 30th, not even winter for another 3 weeks. Second Snowmobiling Laws and ATV Laws and regulations are different from each other and what we are discussing here relates to Snowmobiling.
It is not illegal to ride on snowmobile trails before December 15th. There is no law that says that (this is from the Maine Warden Service). It is however illegal to ride on trails that are signed – "no riding" or are marked closed by the landowner and for that you would get a summons for trespassing.
December 15th onwards is when snowmobile clubs get reimbursed for trail grooming, etc. Snowmobile clubs get permits from landowners to use/groom their trails. These permits can start anytime, many start mid-November, some start December 15th. We – The Twin Pines Snowmobile Club have one big landowner where our permit to commence grooming starts December 15th, usually this has not been an issue, we have others that start mid-November.
Roads – As of tomorrow, the State Road will be closed to Vehicular Traffic, and will be used for snowmobiling. This has been discussed among The Warden Service, the County Commissioner and Baxter State park officials. We will be signing the road closed to vehicle traffic as of tomorrow November 28th. Some roads and sections of roads are being plowed due to ongoing logging – e.g. Stacyville Road.
The Tote Road in Baxter State Park should be open from tomorrow for snowmobiling, this is an ungroomed, remote trail/road that goes from the Togue Pond Gate to the Matagamon Gate. Matagamon store are not open at the moment, so plan accordingly (i.e. make sure you have enough gas for the round trip) if you decide to take this route as you will be on your own.
Trails: it is November 27th as I am writing this, we have had a crew out on the trails to remove down trees and debris, open gates, move rocks. We do not have plans for grooming at this time and caution people who choose to ride before the trails are groomed that there may be seen and unseen obstacles on the trails. Some sections of trail have 2-3+ feet of unpacked snow. Certain trails will have wet spots some may be large. Stay off large bodies of water and other water crossings, these will not have frozen. Ride at your own risk and ride with caution.
Hunting – for this region muzzleloader season ends December 1st which is Saturday. Some sections east of Medway goes to the following week Dec 3rd-8th.
The River Drivers Restaurant reopens at 4pm on Friday and from 11-9 daily after that. Lodging and gas onsite at NEOC/Twin Pines 800-766-7238 ww.neoc.com. Anything else we see we will report here – Snowmobiling in Maine in the Katahdin Region
Ride Right, Ride Safe, Keep It Positive and See You On The Trails. The Twin Pines Snowmobile Club
Last years Map – stay tuned for updates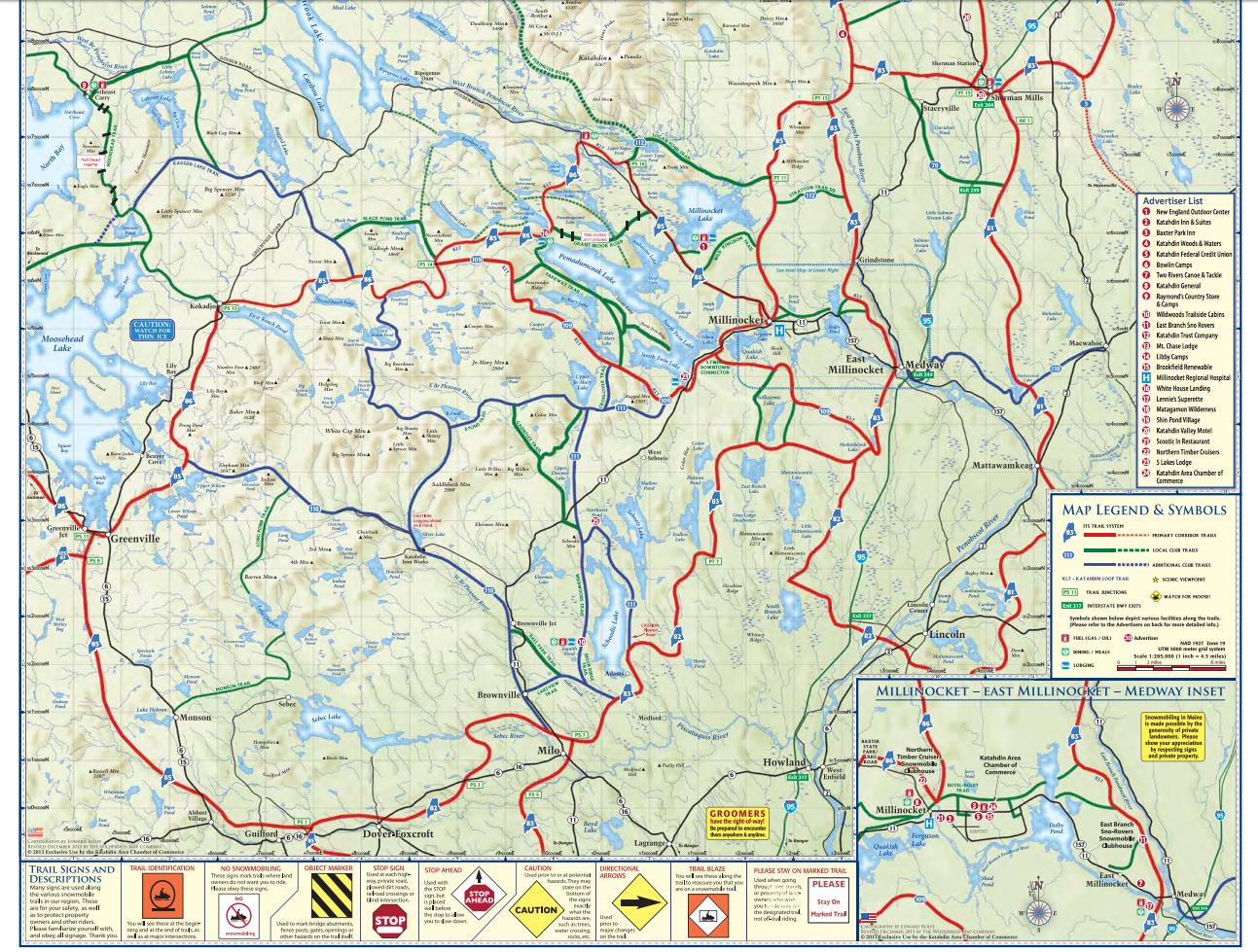 We (The Twin Pines Snowmobile Club) are keeping an eye on the weather this week and if get get a sufficient accumulation of snow we will groom in the Katahdin region. Our groomers are already mobilized out to Twin Pines so if we are grooming it will be to points north and west of Millinocket Lake.  We will notify you once we have a clearer picture of what this weeks weather is going to do.
NEOC Newsflash:  Lodging Special starting at: $50/pp/pn, 2 ppl minimum, best available lodging; – call 800-766-7238 to book this deal.  https://www.facebook.com/RiverDriversRestaurant/and trail reports here https://www.facebook.com/snowmobilinginmaine and here https://www.neoc.com/snowmobile-trail-report-maine/  Ride right, ride safe and see you on the trails. Call 800-766-7238 if you have questions.