Ski Trail Groom Report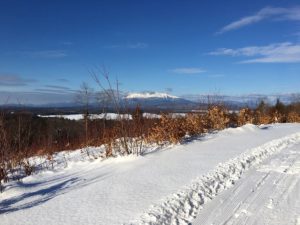 We now have access to over 15 miles of designated ski trails at NEOC on Millinocket Lake, these trails have been expanded by
Katahdin Area Trails
thanks to recent funding from the
. . Scroll down for trail updates. The trails are being built by
www.katahdinareatrails.org
Trail Report, 2019
Nothing says "Monday" like temperatures below 15 degrees! Right now is the perfect time with temperatures below freezing to rent our fat tire bikes and to experience what winter biking is all about! Call (207)723-5438 to inquire about rentals. 🚵‍♂️
Grooming update on the ski trails:
Matt went out yesterday and groomed Hammond Ridge, the Katahdin View trail, and the Lakeside Loop trail. The Saddle Loop and Blackcat are in great condition with soft snow.  Tuesday's temps are expected to warm up slightly just in time for our Women's Ski event at 3:30pm. #MaineIsAwesome
We received over a foot of snow this week – all trails are groomed except the Hammond Ridge Trail. Conditions are excellent. Groomed wide and flat, no track set as of the timing of this report (our small groomer is down so we have not been able to set tracks)
Our Entire system was groomed this past week – today we received 5″ of new snow and are expecting another 4-8 inches overnight into tomorrow. We will groom again after tomorrow and if you have not been out on the trails – can we say – we highly recommend it! Trails are being groomed wide and are in great condition. Call 800-766-7238 if you need ski rentals. The River Driver's Restaurant is at the trailhead.
Bring it on Sunday! There's nothing like ending the holiday vacation week with one last long weekend. Updates thus far: Matt went out and groomed the Katahdin View trail, backside of Blackcat Peak and the front stretch on the Saddle Loop yesterday evening. With last nights cool down trails are fast and flat today. Snow is on the way for Tuesday with a potential for 3-5 inches and another storm on Friday bringing anywhere between 5-10 inches – stay tuned! Ski Rentals and Fat Tire Bike rentals available at our front desk (207)723-5438 #MaineIsAwesome
*REMINDER* Our Women's Ski event will be on Tuesday January 1st at 11:00am this week.
This is a picture from last week – the Katahdin View Loop and the Lake Loop are both groomed flat and wide – excellent for skate skiing or traditional – call 800-766-7238 if you need skis. The Kat Loop is accessed from the trailhead at Twin Pines/NEOC and is about 6 miles round trip to the trailhead. You will be rewarded with a beautiful view of Katahdin if you make it there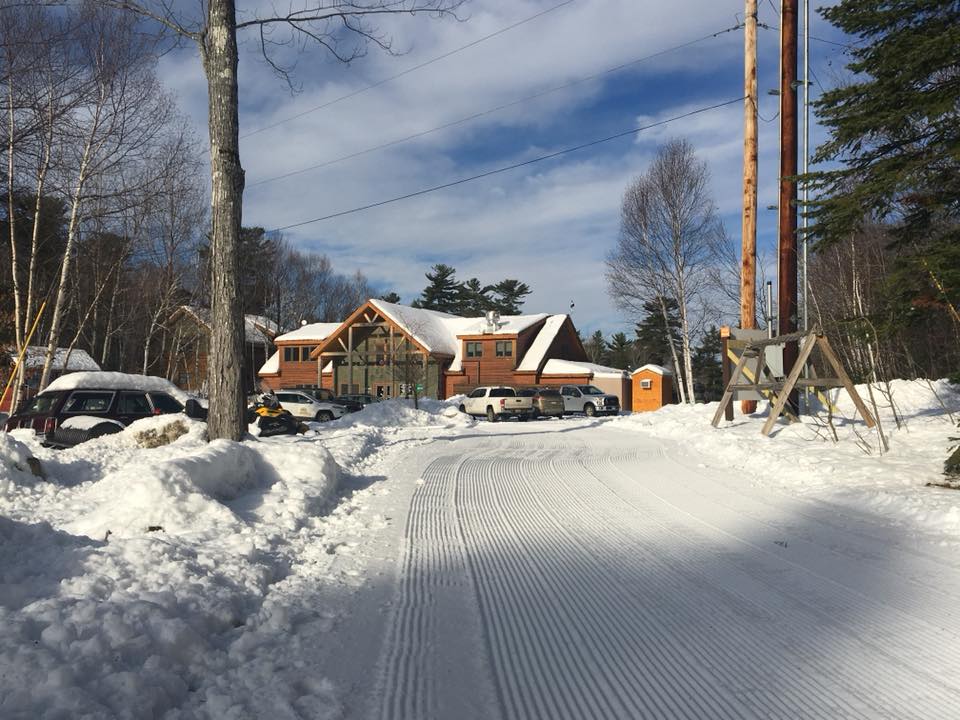 Stay Tuned for Updates: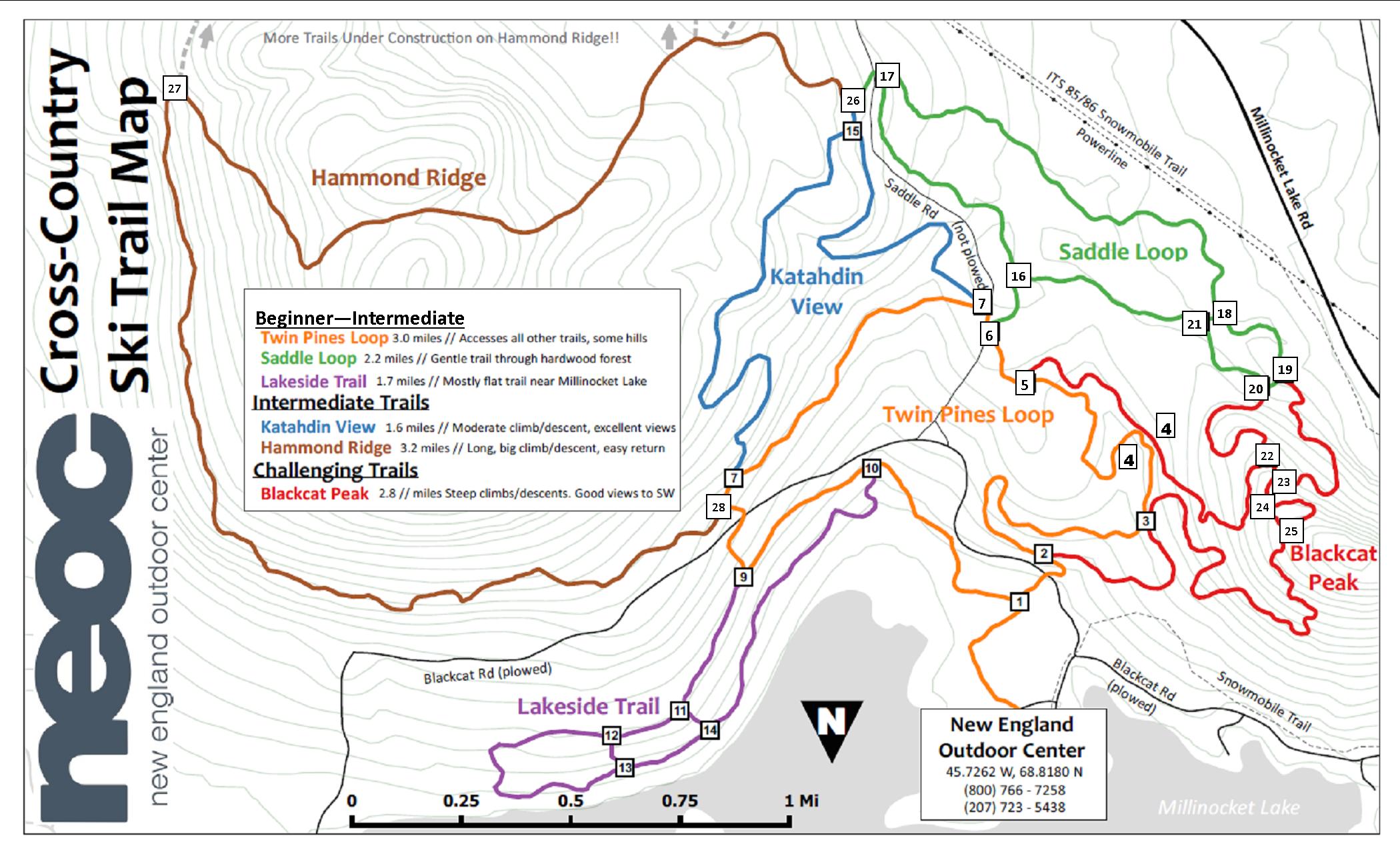 We received 16-20 inches of snow in the last storm – Matt went out with the big groomer and packed down, the Twin Pines Loop, The Lakeside Loop and The Katahdin Lookout trail, the rest of the trails will be groomed over today and tomorrow, conditions should be excellent for skiing.  Find other updates here: https://www.facebook.com/SkiingMaine/
Ski Grooming Report: NEOC Millinocket Lake
| Date | Ski Trail Groomed | Ski Trail Conditions |
| --- | --- | --- |
| Jan 11, 2019 | Access Route to, and the Katahdin View Loop on Hammond Ridge | Groomed - trail is flat and in great condition - firm and beautiful views, |
| Jan 11, 2019 | Black Cat - access to and Mortons | Groomed, this week, great condition, steep for some, new snow today |
| Jan 11, 2019 | Lake Loop at NEOC | Groomed this week, great condition, flat and wide |
| Jan 11, 2019 | Saddle Loop | Groomed this past week, people are loving it |
| Jan 08, 2019 | Hammond Ridge Trail | Groomed thispast week in great condition, 5 inches of new snow todat |