Ski Trail Groom Report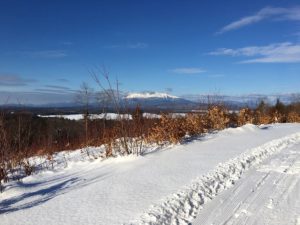 We now have access to over 12 miles of designated ski trails at NEOC on Millinocket Lake. Scroll down for trail updates. The trails are being built by www.katahdinareatrails.org The Folks at the Ice Fish Inn also maintain this area blog - some area updates here: http://blog.katahdinski.com/
Trail Report, 2017
Quick update here in case you are checking – excellent coverage on our trails and excellent skiing, all trails are groomed flat and track is set on about 70% of the entire system. We are grooming either Friday evening or Saturday morning – will make for excellent skiing this weekend.
We just had a new John Deer with attached groomer, groom our entire trail system and create POWDER. I'd highly recommend skiing here this weekend, in fact it looks so I think I am going to head out right now. Should be about 12 miles of groomed trail ready to be skied on, including the Katahdin Overlook Loop, the Saddle Loop, the Cove Loop and Black Cat Mountain. Call us 207-723-5438 if you need lodging – we have a book two nights, stay for three special running this week. 800-766-7238
The foot plus of snow that we received earlier in the week here on Millinocket Lake, Blackcat Mountain and Hammond Ridge has settled well, Bill and Val have been grooming our cross country ski trails, we have track set for classic , and have groomed flat also for skate skiing. The entire system including Morton's Madness, the new Katahdin Scenic overlook and the Lake Loop – almost 12 miles of trail in all, makes for a great day out. We also rent skis, so we have had quiet a few first timers that have had a wonderful time on skis this week. So grab your skis, get some from us and get out in the woods – it is going to be a beautiful day out there and tomorrow also. Food onsite at The River Driver's Restaurant. Call 207-723-5438 if you have any questions. See you when you get here.
Ski Grooming Report: NEOC Millinocket Lake
| Date | Ski Trail Groomed | Ski Trail Conditions |
| --- | --- | --- |
| Mar 31, 2017 | Access Route to, and the Katahdin View Loop on Hammond Ridge | 4 inches of new snow earlier this week, groomed in the past few days. Should be awesome skiing |
| Mar 31, 2017 | Black Cat - access to and Mortons | 4 inches of new snow earlier this week, groomed in the past few days. Steep climb up and down, involves many turns on inclines. Experience recommended. |
| Mar 31, 2017 | Cove Loop at NEOC | 4 inches of new snow earlier this week, groomed in the past few days. Should be awesome skiing |
| Mar 31, 2017 | From NEOC Main Lodge to Saddle Loop and back | 4 inches of new snow earlier this week, groomed in the past few days. Should be awesome skiing |