Ski Trail Groom Report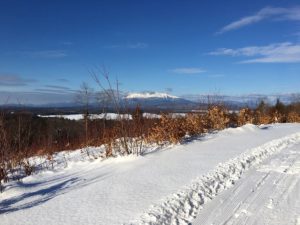 We now have access to over 15 miles of designated ski trails at NEOC on Millinocket Lake, these trails have been expanded by
Katahdin Area Trails
thanks to recent funding from the
. . Scroll down for trail updates. The trails are being built by
www.katahdinareatrails.org
Trail Report, 2018
We received 16-20 inches of snow in the last storm – Matt went out with the big groomer and packed down, the Twin Pines Loop, The Lakeside Loop and The Katahdin Lookout trail, the rest of the trails will be groomed over today and tomorrow, conditions should be excellent for skiing.  Find other updates here: https://www.facebook.com/SkiingMaine/
The trails have been groomed:  Here is a rundown:  Lakeside Trail, flat and firm, track set in places, fun ski. Katahdin Loop, Flat, wide, firm track set in places, great views and nice climb and drop out into the Lakeside trail as a quick way back to NEOC.  Twin Pines Loop, flat, firm, track set in places.  Hammond Ridge trail, groomed once after storm, a lot of give currently in the trail, flat, needs to be groomed again for firmer base.  Saddle Trail, groomed flat, track set in places.  Blackcat, – from Twin Pines Loop to Saddle groomed flat and firm.  Mortons Madness, groomed once, may need another pass through by groomer.

We plan on grooming our ski trails by Friday and will set track on Saturday.  What that means is Matt will head out with the big groomer possibly tonight or tomorrow and will set the trails flat and wide (read awesome) and then on Saturday David Fogg most likely will be setting track for classic skiing on some sections of the trail – usually the Lakeside Trail, Saddle Loop and sections of the Twin Pines Loop.  Will update once we have it done. Check  https://www.facebook.com/SkiingMaine/ for other updates also.
For more frequent shorter updates find us here https://www.facebook.com/SkiingMaine/
The trails on Hammond Ridge and Black Cat were groomed Saturday March 3 and Monday March 5th. We have been using the larger groomer with the tiller so we have been able to smooth out the trails and create a granular surface for skate skiing, track is set on many trails for classic.
Generally track is set on the Lakeside Trail, the Saddle Loop and in places on the Twin Pines Loop. Black Can and Hammond Ridge trail do not have track and they are either more challenging or hilly trails so not recommended for beginners. Best View of Katahdin is from the Katahdin View Trail – close to where the K in Katahdin is.  We are expecting 12 or more inches of snow between now on Friday. Check the FB Page https://www.facebook.com/SkiingMaine/ if this report is not updated by Saturday March 10th.
Find our Map here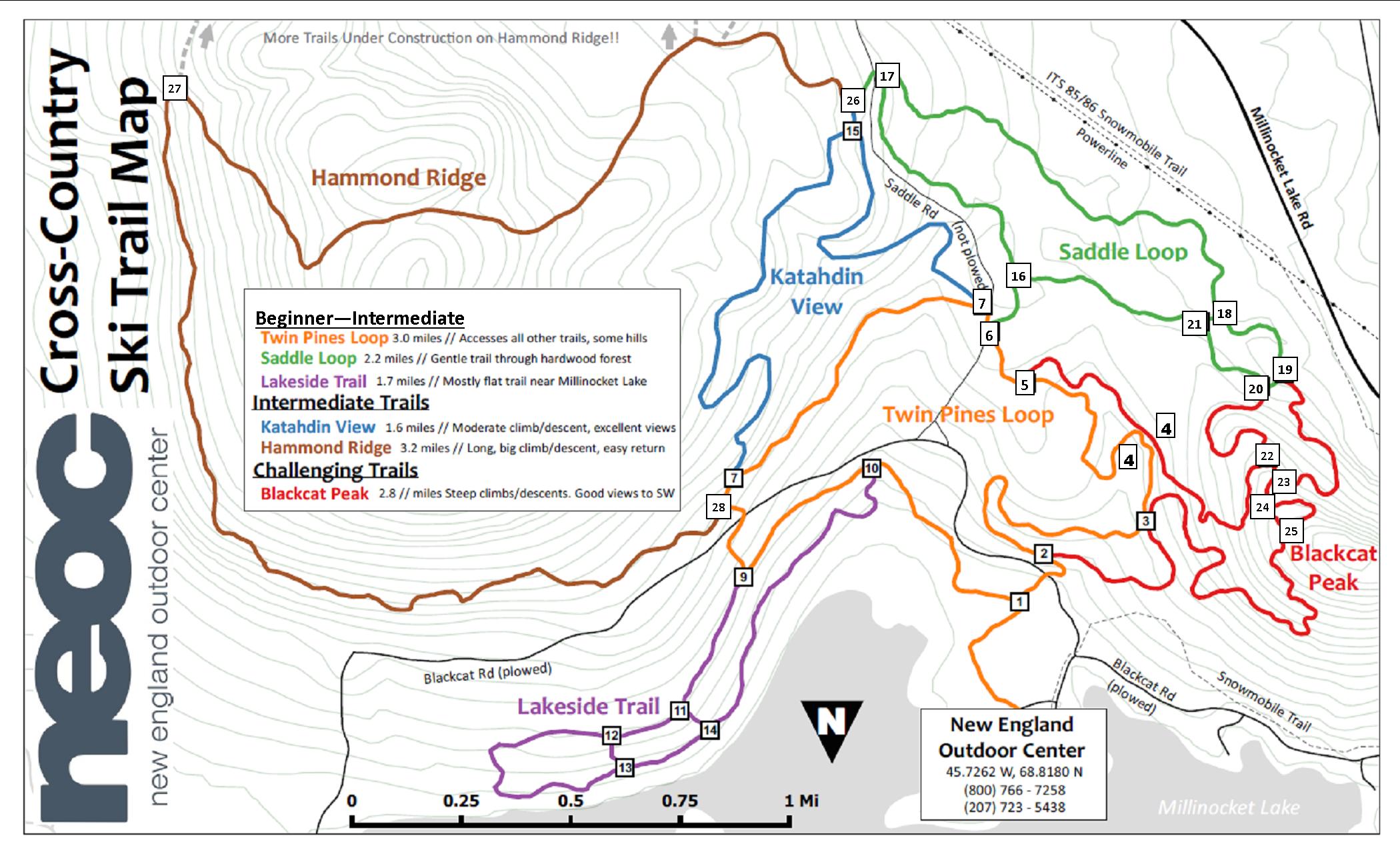 The cross country ski trails are in excellent condition.  Matt tilled/groomed them yesterday morning and Val went out yesterday evening.  The Lake Loop, The Katahdin Look, Black Cat, Saddle, Hammond Ridge Loop and Twin Pines Loop have all been groomed.  Bill Martell skied yesterday and said it was the best conditions for skate skiing so far this season. They are flat, wide and have granular powder surface.  Today they will be pretty fast earlier in the day as the temps are cold and it will warm up some later in the day. Track for classic may be set later today, but is not currently.
Side note:  – we have our classic cross country skis available for rent for $20/day.  Bill Martell is available for lessons with notice (he is not available this weekend) cost for lessons are $49 per person and that includes the skis for the day, lessons are 90 minutes and we recommend this for beginners.
Note for first time skiers, if you find the hills on the trails intimidating, remember you can take your skis off and walk to the bottom or top of any hill – but please walk on the side of the trail so you do not chop the trail up for skiers.  The flattest easiest section of trail for beginners is the upper part of the lake loop that is close to black cat road (please ski out and turn around and ski back on that trail) and to not go on the lower section of the lake loop (hills and bends to get there).  Next best option is to cross black cat road and walk up the first hill – after that the trail is pretty flat and manageable and you can ski out and back on that trail and remove you skis on that same hill (which has a bend on in) on the way back and again walk on the side of the trail.
David Fogg has been working on flagging the snowshoe trails – they are accessed from the rear right corner of the parking lot and are a separate trail from the cross country ski trail, please snowshoers walk on the side of any ski trail that you traverse.  They have blue spray markings and I do not know what color flagging Dave used, but they are packed down and should be easy to follow.  Call 800-766-7238 for more info.
Ski trails have never been better! or close to that, over 17km groomed flat and wide for skate skiing, track set in places for classic, get out there and enjoy.  Call 800-766-7238 if you need more info. Skis available for rent and instructors available if you need.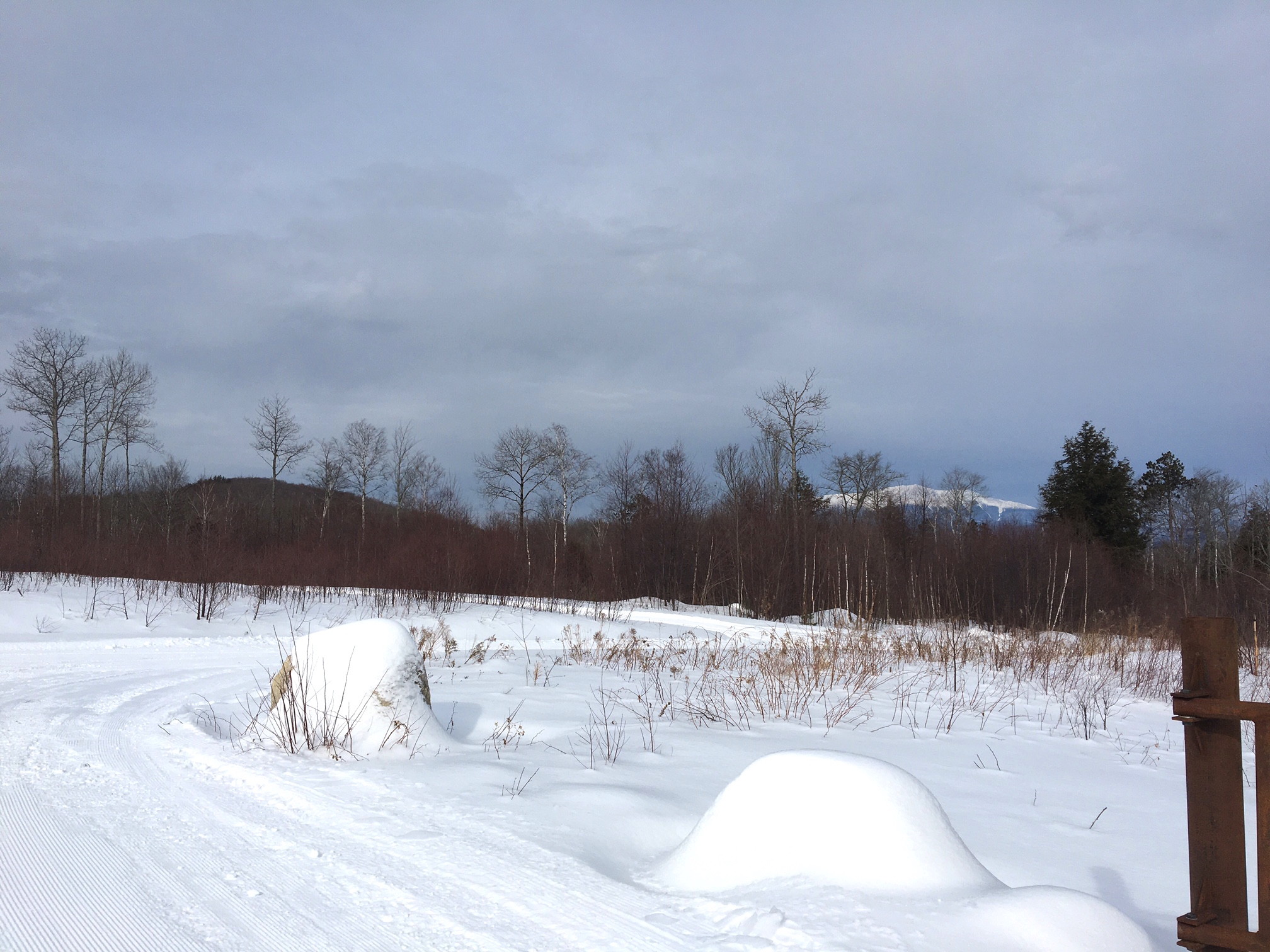 Trails have been tilled, groomed wide and are flat and in excellent condition. track is set in places, over 15km are groomed, Will make for excellent skiing today and this next week.
We are in the process of grooming sections of the trail system, we have plenty of snow after the rain, but the conditions are set hard and fast until we have the chance to break it up with the groomer – Matt groomed the Katahdin overlook loop last night and it is in good skiable condition, this morning he is grooming the loop below black Cat road adjacent to the lake and that will also be skiable by around 10-11am. We are advising to stay off black cat mountain until further notice as it will be icy. The River Drivers Restaurant is open from 7am to 9pm with hot food at the trail head
Ski Grooming Report: NEOC Millinocket Lake
| Date | Ski Trail Groomed | Ski Trail Conditions |
| --- | --- | --- |
| Mar 10, 2018 | Hammond Ridge Trail | New Trail, lots of climb, long, groomed, has a bit of give in it, so not set hard enough for skate yet |
| Mar 10, 2018 | Access Route to, and the Katahdin View Loop on Hammond Ridge | Groomed - trail is flat and in great condition - firm and beautiful views, track set in places |
| Mar 10, 2018 | Black Cat - access to and Mortons | Groomed, a few days ago not suitable for beginners |
| Mar 10, 2018 | Lake Loop at NEOC | Groomed - trail is flat, firm and in good condition - track set in places |
| Mar 10, 2018 | Saddle Loop | Groomed - trail is flat, and in good condition - track set in places |