Ski Trail Groom Report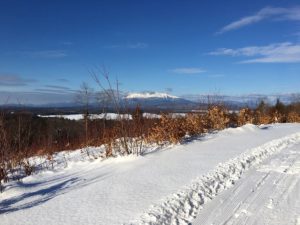 We now have access to over 15 miles of designated ski trails at NEOC on Millinocket Lake, these trails have been expanded by
Katahdin Area Trails
thanks to recent funding from the
. . Scroll down for trail updates. The trails are being built by
www.katahdinareatrails.org
Trail Report, 2020
Good Afternoon Skiers!
We are writing to you all with the best news we can provide for you. Please read ahead if you wish to be informed of some things that are currently happening at the New England Outdoor Center.
First off we want to say… GET OUTSIDE!
Getting outside during a time like this, into the wilderness is one of the most uplifting things you can do for your body and your well-being.
Curious about what XC Skiing can do for you? Read below about the 15 Health Benefits XC Skiing can provide for you.
At this time NEOC plans to continue to groom our ski trail network until conditions can no longer provide.
We will be out grooming on Saturday, and will post a grooming update then. Conditions as of today are wonderful, so be sure to get out there!
River Drivers Restaurant is open from 11am-4pm through Sunday for takeout ONLY, with a limited menu. You can order in person, or call ahead (207) 723-8475
Take good care of yourselves!
Click here to read the 15 Health Benefits from XC Skiing! 
The moment we have all been waiting for…..
TRACK HAS BEEN SET:
Get your groove on this beautiful Saturday on the Lakeside Loop or the Saddle Loop trail, and you will find yourself skiing in fresh tracks!
Thank you so much to Dave Loome who spent his afternoon tilling and tracking!
Enjoy the weekend, skiers!
For XC Ski rentals, please call:
(207)723-5438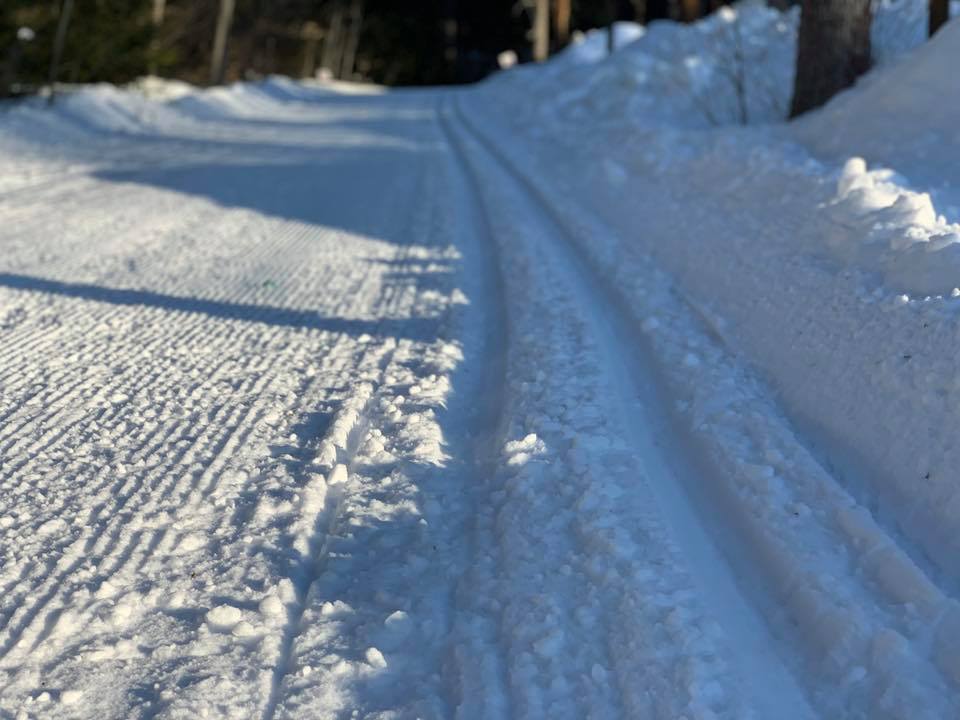 Ski Grooming Report: NEOC Millinocket Lake
| Date | Ski Trail Groomed | Ski Trail Conditions |
| --- | --- | --- |
| Feb 22, 2020 | Twin Pines Loop | Entire trail groomed on 2/22/2020. Track has been set on half the trail. Conditions are flat and wide with fresh corduroy. |
| Feb 22, 2020 | Lakeside Trail Loop | Entire trail groomed on 2/22/2020. TRACK IS SET! Conditions are flat and wide with fresh corduroy. |
| Feb 22, 2020 | Saddle Loop | Entire trail groomed on 2/22/2020. TRACK IS SET! Conditions are flat and wide with fresh corduroy. |
| Feb 19, 2020 | Hammond Ridge Trail | Entire trail groomed on 2/19/2020. No track set. Conditions are flat and wide with fresh corduroy. |
| Feb 19, 2020 | Katahdin View Loop | Entire trail groomed on 2/19/2020. No track set. Conditions are flat and wide with fresh corduroy. |
| Feb 19, 2020 | Blackcat Peak | Entire trail groomed on 2/19/2020. No track set. Conditions are flat and wide with fresh corduroy. |