Vegan and Flannel Wedding at NEOC Maine
Katahdin provided the stunning backdrop for this wedding
When Karen and Hosh got engaged last February, they didn't want to wait indefinitely for their wedding ceremony. With a career in the restaurant business, Hosh knew that a summer wedding, at the height of his busy season, was not going to work. So, they settled on a few non-negotiables: First, they would wed on the anniversary of their seven years together as a couple, (this put the wedding on Sunday, April 28). Second, they would hold a vegan wedding, since both Hosh and Karen are committed vegans. And finally, they would marry in Maine.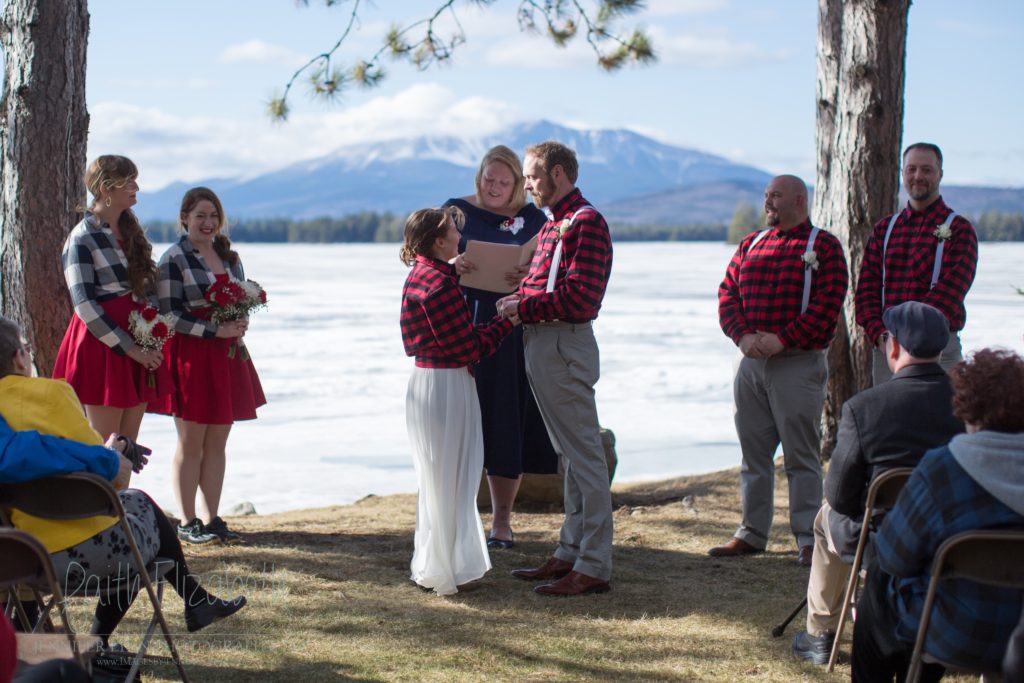 The couple is among a large and growing cadre of newlyweds who are targeting Maine and its natural bounty, as the optimal wedding destination. According to a recent study by the Center for Business and Economic Research at University of Southern Maine, Maine weddings attracted over 1 million visitors and nearly $1 billion in revenue in 2018.
Hosh and Karen, were resolute about being married in Maine, even though it meant asking relatives and friends—most of whom lived away— to make a significant trek north in late April, which by most standards is still winter, or at best mud season, in Maine.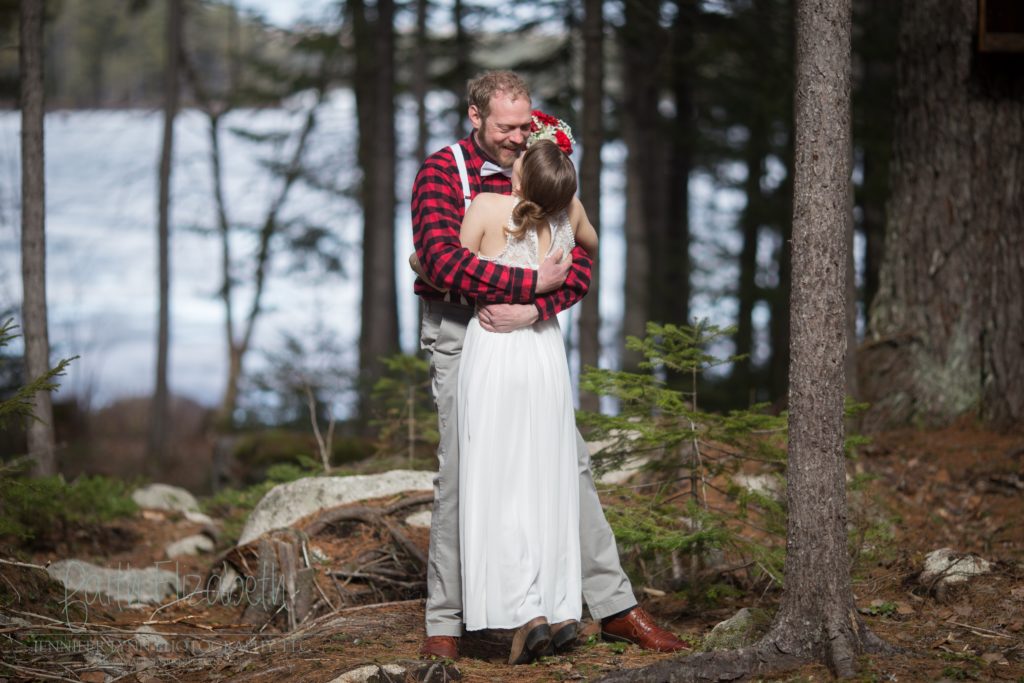 A Love Affair with Maine
The couple had developed a deep affection for Maine's natural landscape. They moved to Maine from southern Massachusetts for work and fell in love with the Maine landscape and way of life. "We wanted to showcase to our friends and family why we moved to Maine and wanted Mount Katahdin to be a stunning backdrop for our wedding," recalls Karen. "The New England Outdoor Center, a four-season resort on the shores of Millinocket Lake, was the perfect spot."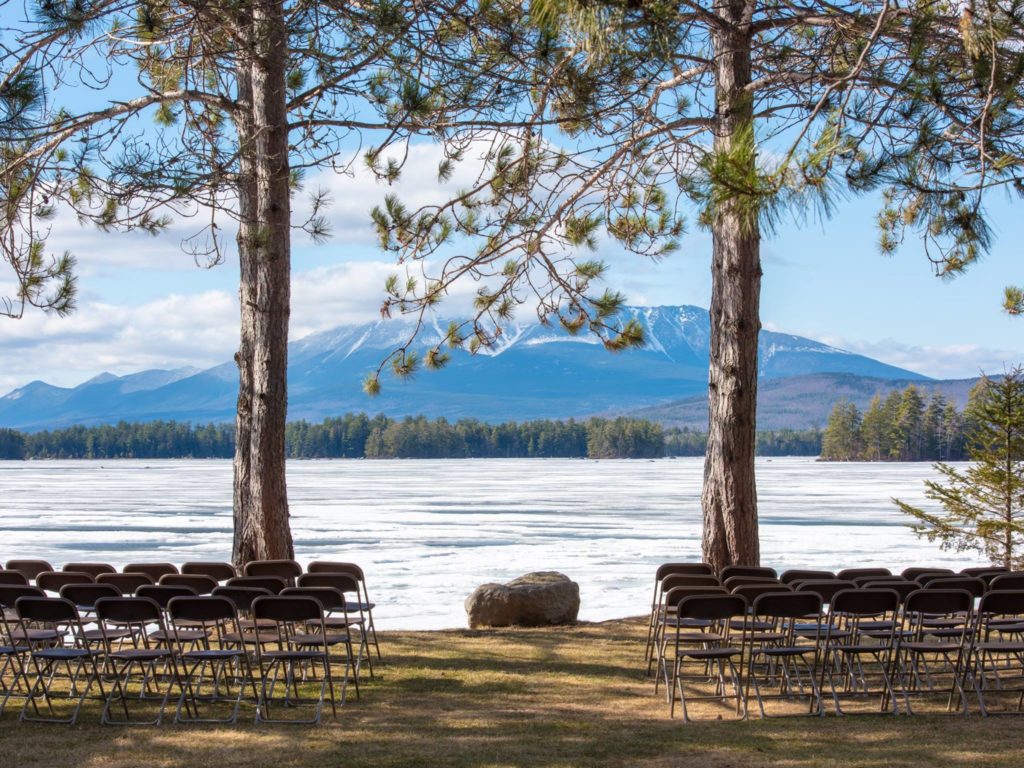 Picking the Right Wedding Location
"We researched over 100 locations around the state and narrowed it down to two," recalls Hosh. One was in southern Maine, the other was NEOC."The place in southern Maine was too generic," explains Hosh, adding that he and Karen were shooting for a friendly, casual, rustic elegance vibe, which would include the option to wear flannel.
"When we visited NEOC, the authenticity of the staff really spoke to us. Everyone else wants to get you in the door while boasting about what they can do for you, but NEOC was different. They listened to our ideas and provided concrete evidence that they could make them happen."
"NEOC chef Chelse Cram went above and beyond to prepare two amazing vegan dishes on our first visit," recalls Hosh. "With abounding enthusiasm, she hand-delivered a coffee-encrusted Portobello burger and an outstanding ginger sweet potato soup with crispy chickpeas – that genuine moment really sealed the deal with us."
In addition to the wedding planning capacity of NEOC's staff, the facility had everything the couple needed to pull off their epic vegan wedding: Great lodging options, a fabulous restaurant/bar, and an unforgettable natural setting.
A Perfect Wedding Weekend
The couple hosted 60 guests for their April wedding weekend. Some guests arrived Friday, most arrived Saturday, in time for a festive and delicious Mexican Welcome Buffet. The wedding itself took place on Sunday afternoon, and was followed by a cocktail hour with three vegan passed hors d'oeuvres. The dinner was a vegan buffet with mushroom risotto, vegetable noodles with pesto, and potato gnocchi with a lemon piccata sauce. "The food was so good that some of our carnivorous friends mistook the mushroom risotto for beef," remarked Karen. For dessert, Chelse whipped up two varieties of vegan cupcakes: a chocolate beet cake and a ginger macadamia coconut carrot cake. The evening concluded with music, dancing, and fireworks.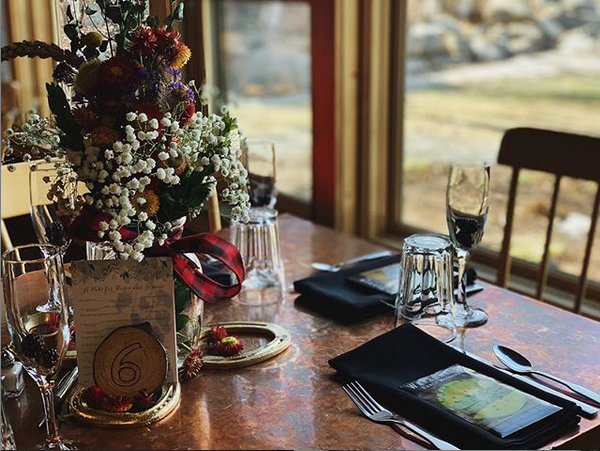 "Everything was perfect," says Karen. "Our ceremony was held at the edge of the lake looking at Katahdin. Hosh and I now have this incredible place where we can return for the rest of our lives to do amazing things and always be reminded of our special day."
Hosh is reverential about the food and the service that NEOC provided for his wedding day."I've been to 100 weddings. I've cooked for 100 weddings. NEOC crushed it every step of the way."