Men and their snowmobiles —It's all about the smiles
It's 9:30 AM on a Saturday morning in Millinocket and five geared up snowmobilers walked into the River Driver's Restaurant at the New England Outdoor Center. They're going to fuel up before heading out for a glorious day of snowmobiling in the Katahdin Region of Maine.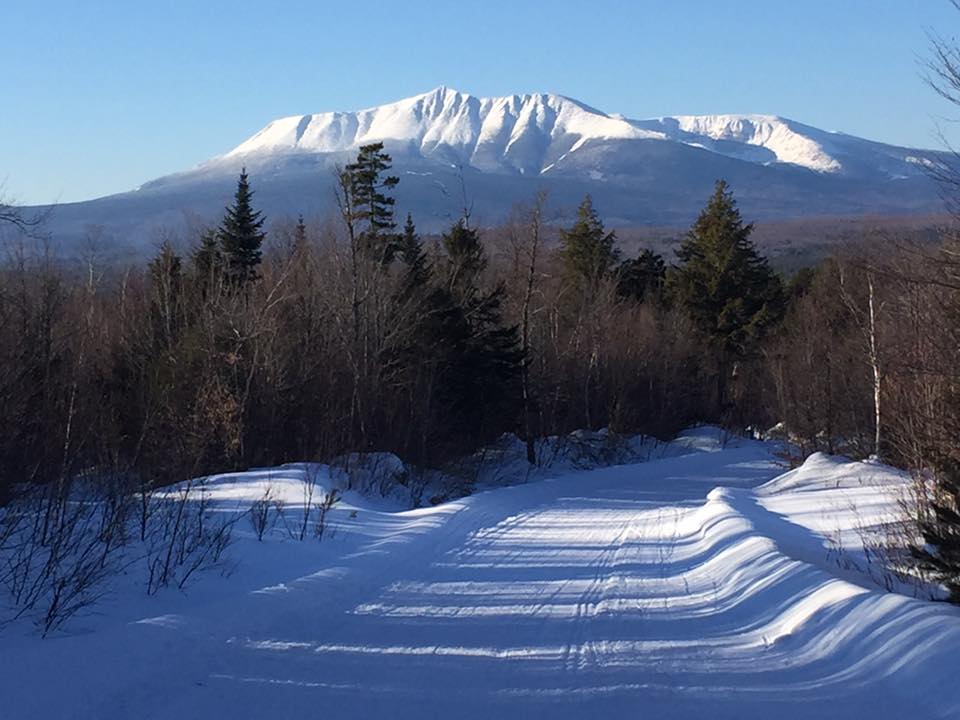 What started as yearning to "get away from the hustle and bustle" of suburban life has transformed into a weekly routine."We started checking out this area 12 years ago," says Pete, "now we come every weekend during the winter. We love it up here."
No joke – starting around mid-December, these five guys hit the road every Friday after work and make the trek north for snowmobiling. Coming from Massachusetts, many of them take Monday off work so they don't have to rush out on Sunday and can enjoy more time outside."I save up my vacation days for the pleasure of spending an extra day each weekend in the north country," admits Shane. "We are die-hards."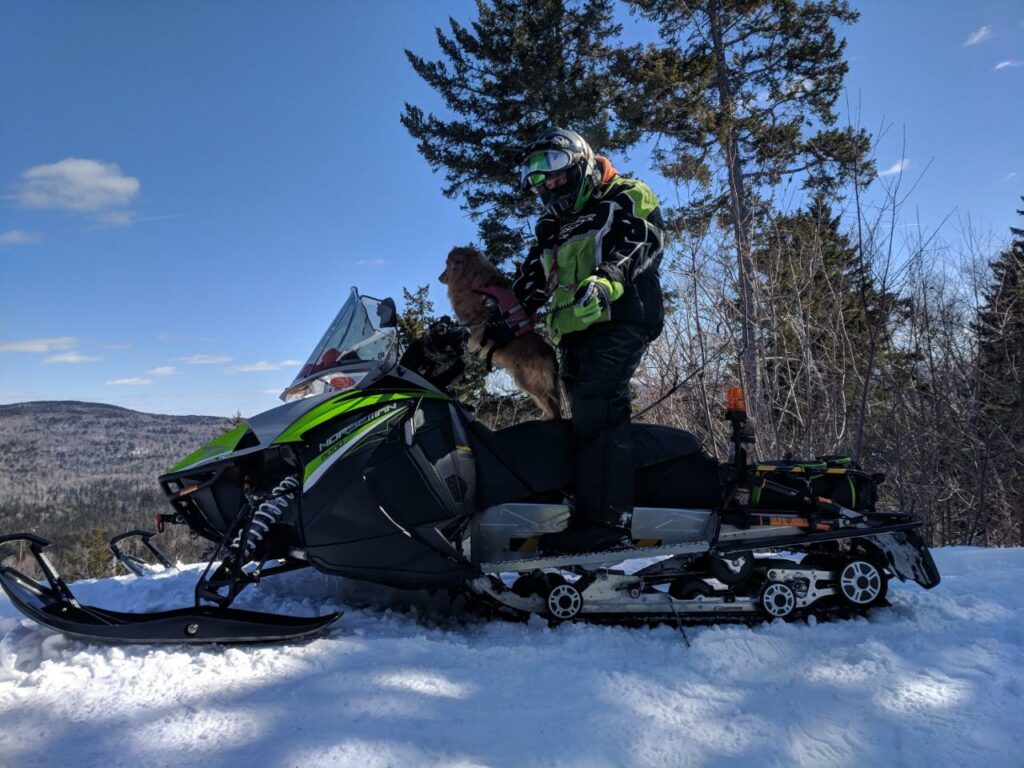 Favorite Places to Ride
Every weekend is a destination for this adventurous group, who willingly offer up photos from their smart phones to show off the spectacular scenery they've captured over 12 years of riding.Over time, the group has also developed a well-honed list of favorite places to ride, including:
Shin Pond – "We love the Shin Pond Pub, the owner Vicky is awesome and she cooks amazing food," says Pete. Nearby Shin Pond Village is also a convenient place to fuel up.
Whitehouse Landing – "It's located in T2-R9 and you can only get there by snowmobile." This destination offers great home-cooked meals from a family of four:a mom, dad, son, and their dog Trapper.
The Allagash River – "One of our best day was up on the Allagash, when it was negative 17," says Ryan smiling. "We went up there to see the dog sledding races and it was just an awesome day."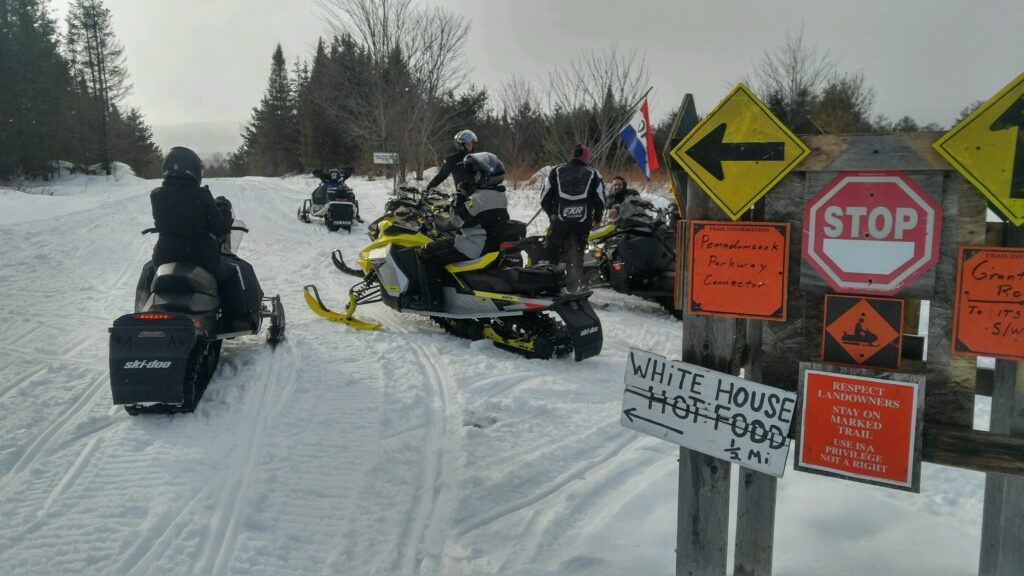 Other favorite destinations include Kokadjo near Greenville, Wildwoods Trailside Cabins near Brownville Junction, Matagamonon the north edge of Baxter State Park, and Bowlin Camps on the East Branch of the Penobscot River
"Some days we ride a hundred miles, other days we ride 40. It depends on how we're feeling," says Pete. Each week, the decision about where to ride falls to a different person."Everybody has a day where they get to pick the destination we're going to visit."Today is Ryan's day and he wants to head to Whetstone Bridge on the East Branch of the Penobscot River.So, at about 11 AM, the group, having enjoyed a large breakfast at NEOC, gets their gear on, hops on their snowmobiles, and heads out for the day.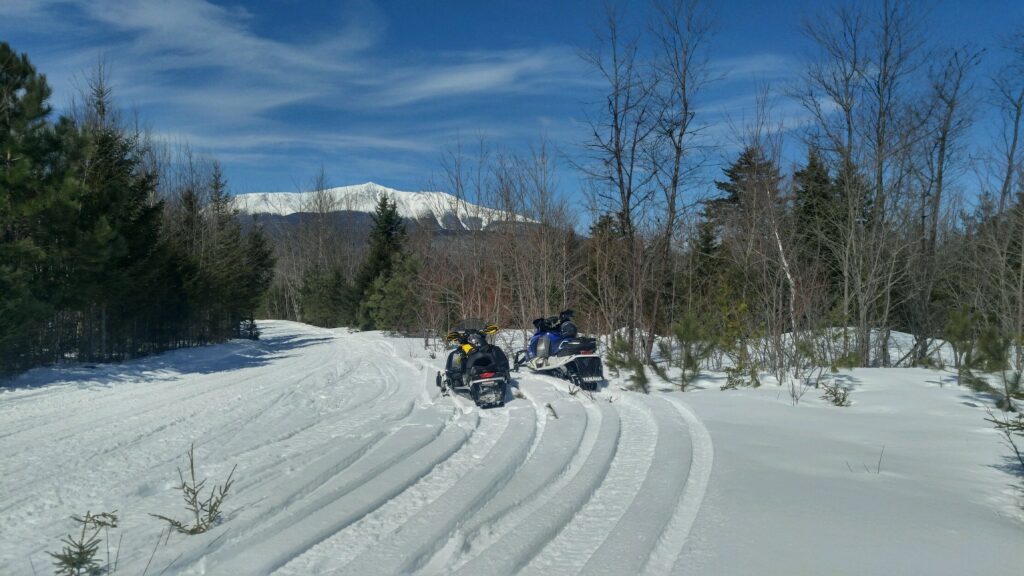 Grooming Matters
Topping the list of importance when it comes to great riding is the trail grooming, and these guys give the Twin Pines Snowmobile Club 5-star reviews for its attention to the quality of the trails. "If you're on trails and it's bumpy, it's miserable," says Pete. "This place does a great job grooming the trails."
Tommy chimes in: "NEOC has the fuel, the food, and the drink, and they groom right to the doorstep. It's basically everything you need."
Spotting Wildlife
Another highlight of snowmobiling is the awesome opportunity to see wildlife."We see coyotes, moose, eagles, and more, but you have to be careful around the moose," cautions Ryan. When the snow gets deep moose will wander onto the trails because it's easier to walk.A fast approaching snowmobile can scare a moose, causing it to run, hurt itself, or worse. This can be lethal, the group explains. "Moose will kill themselves if you chase after them, so you have to be really careful when you see them in the woods," explains Ryan. "If we see a moose, we'll just stop, take a break, do some sled maintenance, and wait for them to move on."
Bottom Line
If you want to experience the best of snowmobiling in the Katahdin region, NEOC should be your first stop."I feel like I'm waking up every morning in paradise," admits Tommy. "Snowmobiling is all about the smiles."
To book your lodging and get the latest trail conditions, go to: Snowmobile Rentals and More