4 Essential Things to Know about Winter in Baxter State Park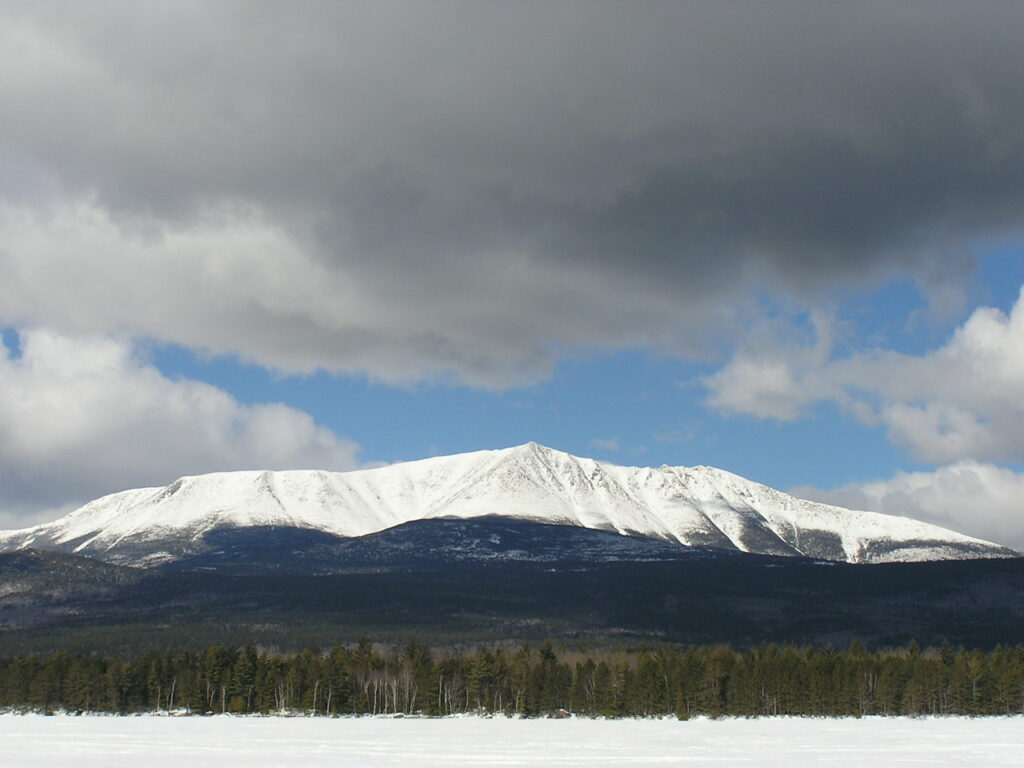 The New England Outdoor Center is situated only 16 miles from the southern entrance to Baxter State Park and offers easy access to the remote, exquisite beauty of Maine's 209,501-acre wilderness. Winter visitors to Baxter State Park are often stunned by the remoteness of the "forever wild" park, which includes not only Katahdin, but 17 other 3,000-foot mountains. Established as a sanctuary for wild animals and for public enjoyment, the park is a magnet for hikers and wilderness seekers during the spring, summer, and fall. But winter is another matter. The park's remoteness takes on a certain extreme edge in winter, and enthusiasts who venture into the park are advised to plan with caution and care. Those willing and equipped to take on winter in Baxter will be rewarded by extraordinary beauty and solitude. But careful planning is essential. Back-country travel in Baxter is "at your own risk" and cell phone service is unreliable at best.
Plan ahead. Winter season in Baxter State Park runs December 1 to March 31 and entrance is possible from either the southern or northern end of the park. Day and overnight users should study the park's well-conceived winter guidelines and rules and check in at Park Headquarters in Millinocket on their way into the park.
Skiing, Snowshoeing & Snowmobiling. Baxter State Park offers stunning cross-country and back country ski and snowshoeing opportunities along existing hiking trail routes. Keep in mind that winter travel takes much longer than summer hiking, so it's essential to be thoughtful about your planning, the length of day, and the weather forecast. Snowmobiling is permitted only on the Tote Road, which is not groomed, and the speed limit is 20 miles per hour. Most winter users will find winter access from behind Abol Store & Bridge. Note the State Road past the North Woods trading Post is not maintained – ie plowed in winter and becomes a snowmobile trail, so you will not be able to access the Togue Pond Gate by car or truck.

Bunkhouses & Cabins. Winter camping is permitted by reservation only and a collection of seven bunkhouses and two cabins, equipped with propane lights, wood stoves and firewood, is available. Lean-tos are available for those willing to endure fierce elements. Winter camping reservations and above-treeline hiking registrations must be made in person or by mail after November 1 and at least seven days in advance of your trip.
Guided Trips into Baxter State Park. During the early months of winter (December January, February) NEOC can offer guided snowmobile trips through Baxter State Park if snow conditions allow for safe & comfortable transit, and for those wishing to take a day of back-country skiing or snowshoeing, NEOC offers shuttles to the entrance of the park. Hiring a guide to take you into the park is a great way to experience this wilderness gem with someone who knows the area. Note if you are planning to back country ski in and around Chimney Pond it will require a multi-day trip often requiring an overnight stay in the bunkhouse at Roaring Brook.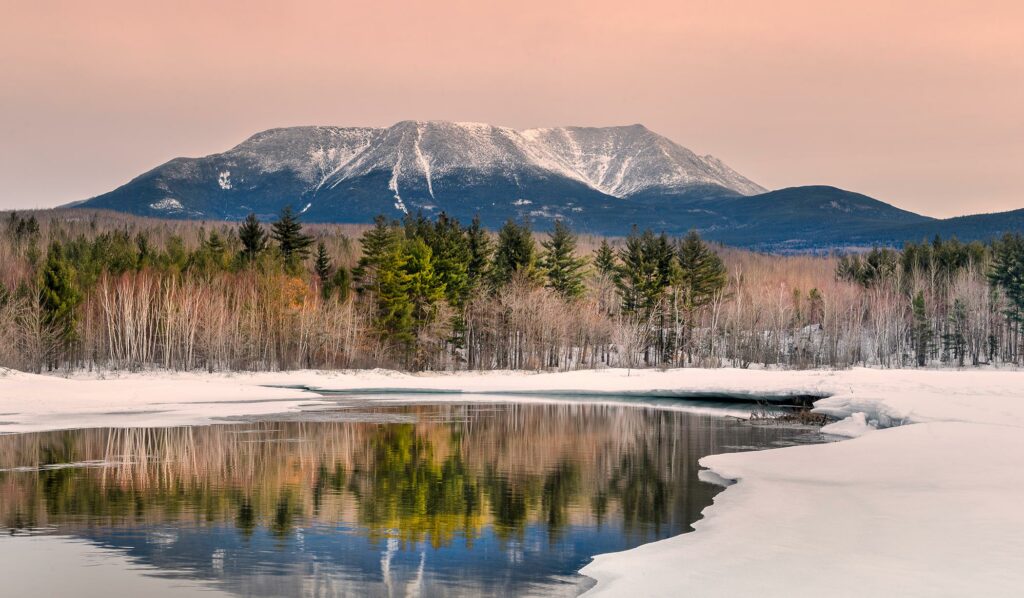 Bottom Line
A visit to Baxter State park in the winter takes thoughtful planning, as the risk of injury is heightened and the consequences magnified and you will be on your own. Having said that, if conditions are right, a winter trip into Baxter can be one of the most exhilarating experiences of a lifetime. The benefit of staying at NEOC is that you have a warm cabin and the River Driver's Restaurant to enjoy when you return home from a long day in the great outdoors. NEOC is situated only 16 miles from the southern entrance to Baxter State Park and offers easy access into Baxter State Park.