Availability: June through September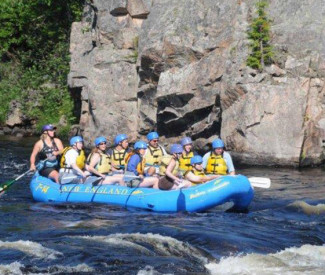 Penobscot River Full River Trip
Class I-V Rapids
14 Mile River Trip
Natural Water Slides & Surfing
Includes Riverside BBQ lunch
Full Day Trip
From $79/pp

Soft Adventure Penobscot River
Class I-III Rapids
Whitewater rafting for Ages 8+
Natural Water Slides & Surfing
Includes Riverside BBQ lunch
Full Day Trip
From $79/pp

Family Float Trips
Class I Rapids
Fun trip for families & ages 4+
Water Slides
Full Day Trip – 5hrs
Includes Riverside BBQ lunch
From $79/pp

Penobscot Gorge Half Day Trip
Class III-V Rapids
Includes 11 Named Rapids
Upper River Trip
10:30 check-in time on river
Includes Riverside BBQ lunch
From $89/pp

Lower Penobscot Half Day Trip
Class I-IV Rapids
Natural Water Slides & Surfing
Fun for everyone
Includes Riverside BBQ lunch
Check-in at 8:00am
From $79/pp

Double Trouble Thursdays Only
Class IV-V Rapids
Two Runs of The Upper River
High Adventure Trip
Includes 11 Named Rapids
Includes Riverside BBQ lunch
From $99/pp

 2015-Raft-Release Form – Click Here
Maine is home to the challenging class V rapids of the Penobscot River.
White Water Rafting on the Penobscot River in Maine is one of the most spectacular and challenging whitewater river experiences in the eastern United States and has become our most popular river. The Penobscot River boasts a reputation of exhilarating rapids and breathtaking scenery.
Our white water rafting trips begin on the lower river with Class I to III rapids, allowing rafters to enjoy the views and smaller surf holes and waterfalls before indulging in a riverside BBQ lunch. In the afternoon, we take on the upper river, at one point dropping over 70 feet per mile through a narrow, granite walled canyon into two advanced Class V rapids known as the Exterminator and the Staircase.
New England Outdoor Center reserves the right to cancel trips, switch rivers, and change itineraries due to weather, water flow, and our professional discretion. Please know that we will communicate these changes to the best of our ability to ensure our customers can prepare appropriately.
Minimum age: We have a trip for everyone from age 4 to 104!
Family Float Trips on the Lower Penobscot River (4 and up)
Soft Adventure Trips (8 and up)
Regular River Trips and Double Trouble Trips (15 and up)
Penobscot River Daily White Water Rafting Rates
Season
Dates
Sun – Fri (Adult/Child)
Sat (Adult/Child)
Early Summer
April 25th – July 6th
79
99
Summer
July 7th – Sept 1st
94
119
Fall
Sept 2nd – Oct 13th
79
99
Full River Trip ages 15 and over
Available every day(except designated Saturday's & Double Troubles)
94* / 79**
99* / 79**
Soft Adventure
Fri, Sat, Sun, Mon, June 21-Sept 2nd
94* / 79**
99* / 89**
Family Float Trips
Fri, Sat, Sun, Mon, June 21-Sept 2nd
94* / 79**
99* / 89**
Penobscot Gorge (half-day) *(ages 15 and over)
Available every day (except designated Saturday's & Double Troubles)
89*
109*
Double Trouble #
Every Thursday in Summer & Weekends in September
Add 20
Add 20
(All prices are per person)
All Inclusive Packages, Your Best Value
Packages include: raft trip, two nights lodging, one dinner and two breakfasts at River Drivers Restaurant, and use of all resort amenities. The price ranges given depend on day of week rafting or lodging and depend on number of people lodging. *Lodging at Twin Pine Cabins has minimum occupancy requirements and includes 1 breakfast and one dinner the day of your raft trip. Cabins vary and sleep from 4 to 14. Ask our reservations staff for pricing for children 12 and under.
Lodging Options (number or people)
Apr 25 - Jul 6 Sun-Fri/Sat
Jul 7 - Sep 1 Sun-Fri/Sat
Sep-2 Oct 15 Sun-Fri/Sat
Campsite (1+ )
140-160/164-184
155-175/184-204
140-160/164-184
Canvas cabin tent (1 – 2)
158-178/184-204
173-193/173-204
158-178/184-204
Canvas cabin tent (3 – 4)
153-170/178-198
168-193/198-218
153-173/178-198
Twin Pine Cabins * (based on 4 in a small cabin)
224-243/244-264
255-276/235-255
224-243/244-264
Twin Pine Cabins 3 Br Lodge * (based on 6)
269-289/289-309
306-326/331-351
269-289/289-309
(All prices are per person)
Photo & Video Opportunities:
Share the best of the best with family and friends! At the New England Outdoor Center you are able purchase both videos and photos of your white water adventure.
Our digital photos are high resolution JPEG originals and the videos are shot in high definition for the best viewing quality.
Package A: All Photos of One Boat-$55.00 Digital copies of all shots from your boat on a CD
Package B: All Photos & Video- $74.00 Digital copies of all shots from your boat and a trip video DVD (additional DVDs are $10.00 each)
Package C: 2 Photos & 1 Video- $64.00 Digital copies of 2 shots from your boat and a trip video DVD (additional DVDs are $10.00 each)
Prices do not include tax or handling fee.
US: $5.00, Canada: $8.00 and Overseas: $12.00 We also offer individual photos and videos for more information call us at 1-800-766-7238.
Penobscot Double Trouble
This whitewater rafting experience is so much fun, we want you to experience it twice! Saturdays in June, Thursdays during the summer, and weekends in September we "double" the fun on the Penobscot for thrill-seekers craving the ultimate whitewater experience. If you want the best whitewater rafting in Maine, then a "Double Trouble" trip with NEOC will provide great value and excitement for your entire group. The "Double Troubles" run the Ripogenus Gorge stretch of the West Branch of the Penobscot River not once, but twice in the same day! Nowhere in Maine will you find this much Class V whitewater.
Class: V
Minimum Age: Double Trouble River Trips are for ages 15 and up.
Additional Information
You Go Free! If you organize a group of 11 mid-week or a group of 16 on a weekend, you go FREE!
Private Raft: Do you have a party of 6 or 7 people and want your own personal raft and guide? For $10 more per person for 7 people or $15 per person for 6 people, you get just that – your own private raft and guide! (Not available for groups of less than 6 people.)
Want an even wilder ride? Choose one of our smaller rafts for 6-7 people, all for only $15 per person extra.
Breakfast: $9.50pp. Complete breakfast at the River Driver's Restaurant.
Dinner: $30pp. Choose from assorted entrees from our River Drivers Restaurant dinner menu, non-alcoholic beverage and housemade dessert (Ooey Gooey Peanut Butter Chocolate Layer Cake).
Penobscot River "Soft Adventure" Trips:
If it's your first time white water rafting or you're thinking you just want to stay in the raft, then our full-day, soft adventure trip on the West Branch of the Penobscot River is the ideal guided trip for those interested in an introductory whitewater excursion. This is a relaxing and flexible river experience.
Guests will enjoy some of the less intense, low-key rapids on the West Branch as well as time to "play" on the river. This may include "surfing," climbing under waterfalls, swimming, playing in a natural water slide, or just sitting back and enjoying the magnificent scenery and Maine Wildlife including up close views of Maine wildlife. Trip includes lunch.
Class: I-III
Minimum Age: Entire Lower River (10 and up), Lower River below Nesowadnehunk Falls (ages 8 and up)
Penobscot River "Family Float" Trips:
This is the perfect white water rafting trip for ages 4 to 104! As part of our commitment to family adventure, the New England Outdoor Center has specially designed this river trip for visitors who want to be on the water but aren't ready to take on the rapids. It is an introduction to the beauty and wilderness of the Penobscot River as well as a playful excursion for the whole family.
Guests will spend the day on the river, swimming, floating, paddling and playing. We can even show you how to use our individual inflatable kayaks as we travel together from below Nesowadnehunk Falls to Abol Bridge. Along the way, we will visit natural waterslide, take a short hike, and learn about the river's natural and cultural history. We will provide a riverside lunch so you can leave your worries behind and just enjoy the scenery, wildlife and each other. The personal attention from our family friendly Maine guides will ensure an unforgettable, safe rafting experience that everyone, of all abilities and ages will enjoy.
Class: I floating/light paddling, no whitewater, sit-on-top inflatable kayaks, swimming
Minimum Age: This is a custom trip on the Lower Penobscot River – Family Float Trips (ages 4 and up)
Note: Photos and video may not be included in these soft adventure and float trip packages, but can be added through prior arrangement. It is a wonderful way to remember your trip and share the excitement with friends and family.
Kennebec River | Penobscot River | Dead River | Soft Adventure and Float Trips