Skiing at NEOC.  First things first.  The trails are free and currently there are about 15 miles of groomed trails - scroll down for a map. The trail-head is accessible from the NEOC/River Driver's Restaurant parking lot.  You can stay with us and ski or you can drive in park and ski for free.  Bring some friends! We also have ski equipment available if you need to rent equipment, and skilled cross country and skate ski instructors available for lessons. If you call and book we can have someone available when you get here.  800-766-7238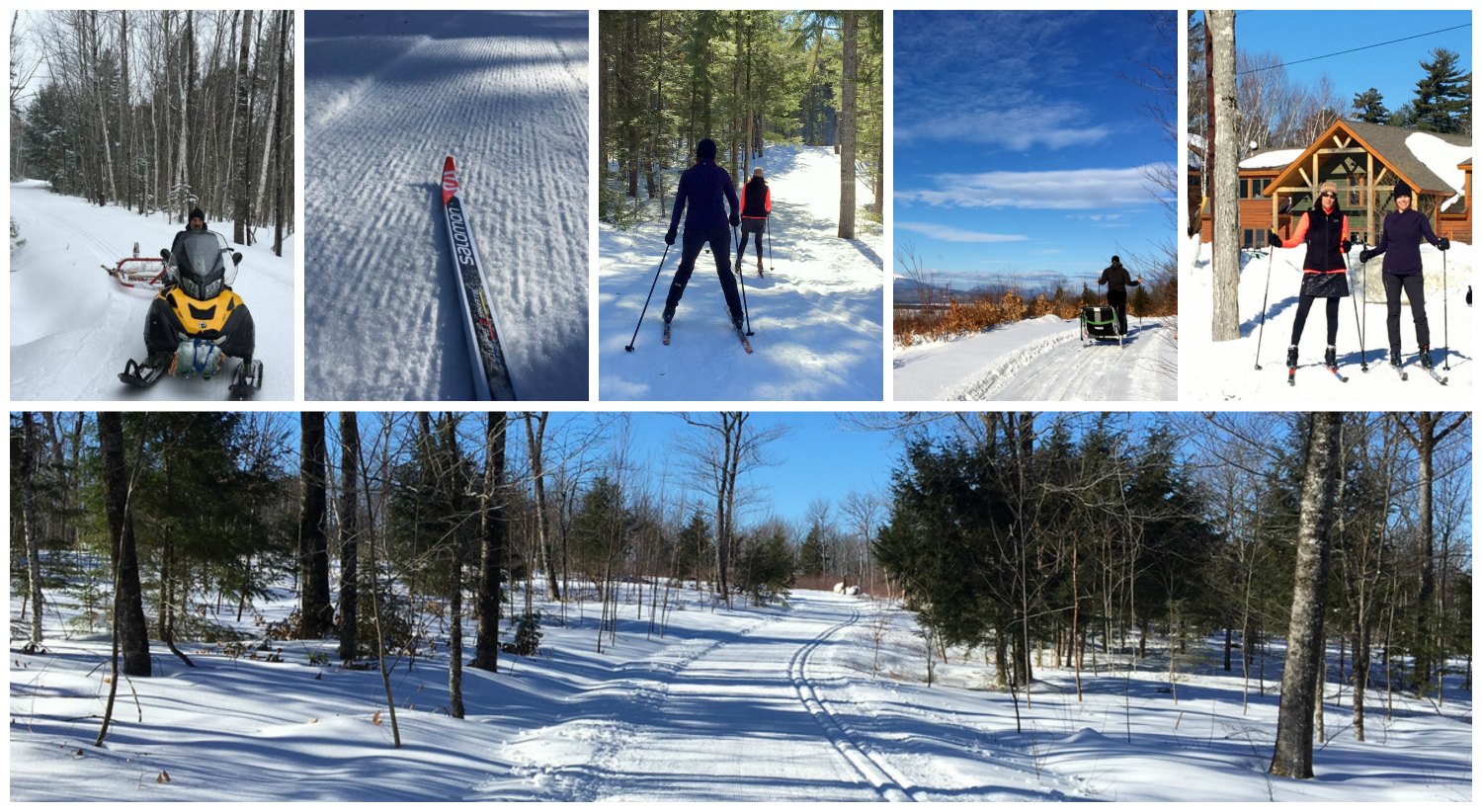 The ski trails adjacent to NEOC are expanding; Currently, there are over 15 miles of ski trails developed and groomed on Hammond Ridge and Blackcat mountain which form the southern landscape backdrop for NEOC.  Katahdin Area Trails working with funding from Organizations such as the Sewall Foundation and The Quimby Family Foundation is expanding the existing ski trail base and building on-site, world-class Nordic ski trails. The original ski trail system was designed by preeminent designer and Olympian John Morton. The terrain, featuring views of Black Cat Mountain, is a mix of exhilarating down-hills, invigorating up-hills and everything in between. Be sure to pick up a Ski Trail Map and check-in with the front desk before heading out on the trails.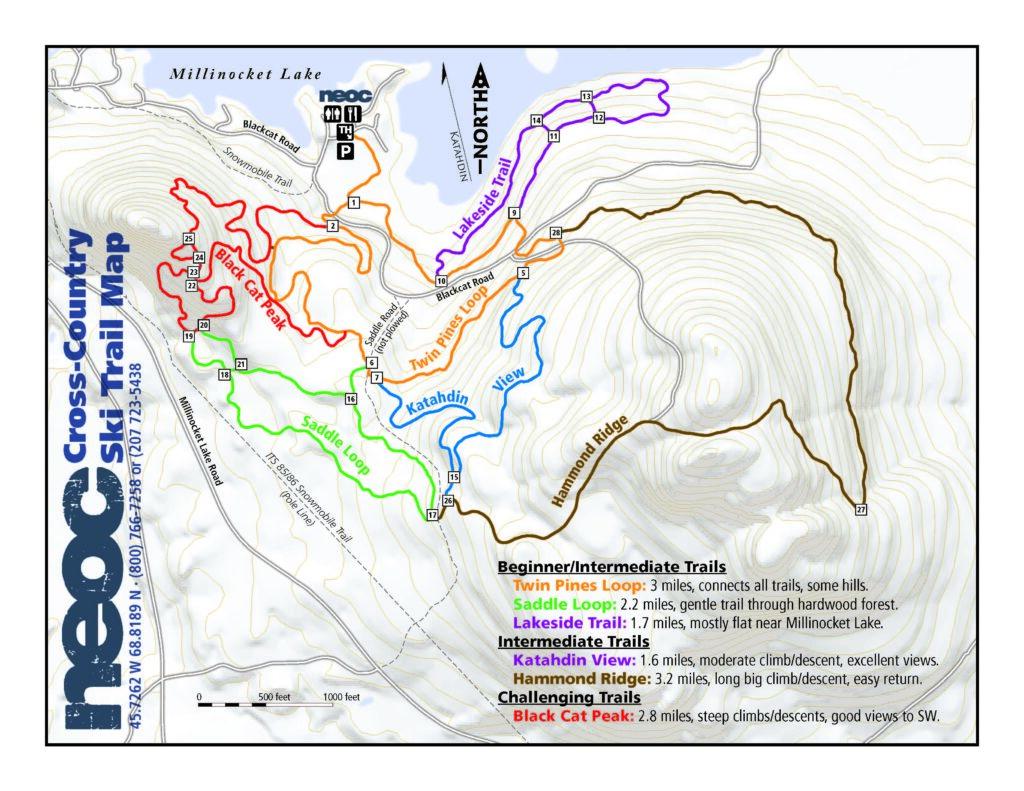 About Morton Trails:  John Morton is the founder and a Principal of Morton Trails, involved in the design of over 100 trail projects across the United States and abroad. A seven-time Olympic participant, twice as an athlete for the US Biathlon Team and most recently as Chief of Course for Biathlon events at the Salt Lake City Olympics (2002), John began designing trails in 1989 after eleven years as head coach for the Dartmouth College Ski Team. He is a graduate of Middlebury College and served in the US Army in South Vietnam, released from active service with the rank of Captain in 1972. In addition to remaining a competitive runner and skier, John is a frequent commentator on Vermont Public Radio and author of the novel Medal of Honor.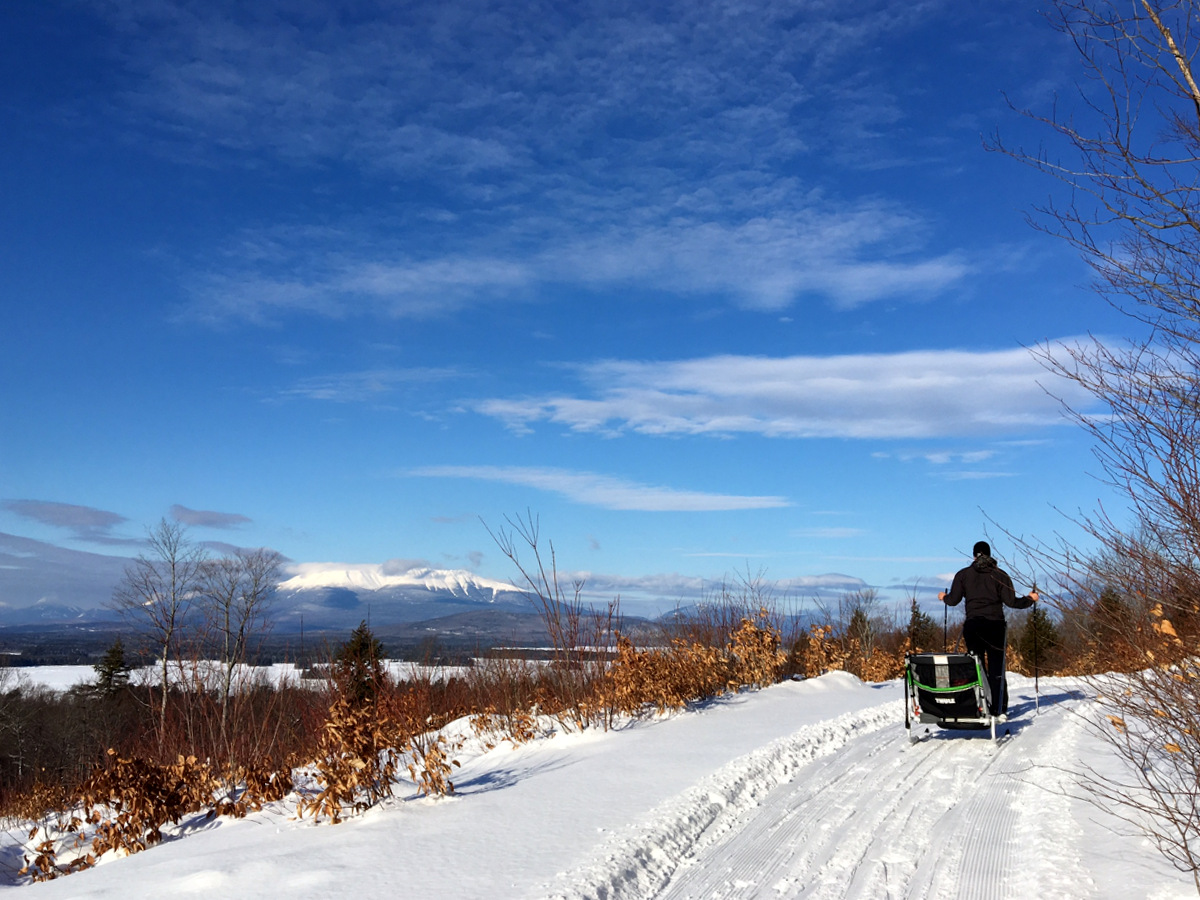 Call 1-800-634-7238 to ask us about the current weather conditions and to customize your perfect winter experience.
At NEOC, trails are groomed for both classic cross country skiing and skate skiing.  We also accommodate athletic groups and school ski teams and will work with their coordinators to develop a program for the team that will help them excel in their winter sports events.  We can and will custom groom trails or portions of them depending on what the group is training for.  Trails in the region typically hold snow into April and with lodging accommodation allowing for rest in comfortable private cabins in between training sessions, and an award-winning restaurant right on site, travel time for participants is minimized and comfort is maximized.  Contact [email protected] for group arrangements or call 800-766-7238.
Visit our Facebook page for ski trail conditions here: https://www.facebook.com/SkiingMaine