Penobscot Outdoor Center Pavilion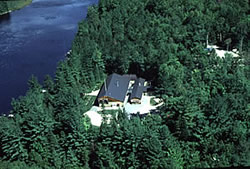 The closest commercial campground to Baxter State Park, the Penobscot Outdoor Center is the area's most complete camping resort, and is ideally located as your headquarters for exploring the Katahdin region.
Set in over 50 acres of majestic forest on the shores of Pockwockamus Pond, the Penobscot Outdoor Center is designed to complete your camping getaway. The main Pavilion is a popular gathering place with a centrally located fireplace, comfortable lounge, and large social area. After a day of fun and adventure, enjoy delicious food from the Katahdin Grill. RelaxRelax and warm those trail weary bones in the sauna (available this February). Adjoining the Pavilion are large, clean restrooms with numerous showers and plenty of hot water. Other on-site activities include paddling a sit-on-top kayak around the pond where moose, loons, otters, and other wildlife are often spotted.
Katahdin Grill
The Katahdin Grill at the Penobscot Outdoor Center offers great food in a casual atmosphere. A hearty breakfast is available as well as other light fare.