Fri 4 Feb 2011
There is an adventure brewing in my kitchen, a culinary Everest, the K2 of cuisine and like any good adventurer, I have packed, prepared and pondered the implications of my endeavor.  This is not for the faint of heart, and as I wield my whisk, assemble my pots, and assess my ingredients, I am reminded of Shackelton's call to the Endurance Expedition.
MEN WANTED: FOR HAZARDOUS JOURNEY. SMALL WAGES. BITTER COLD. LONG MONTHS OF COMPLETE DARKNESS. CONSTANT DANGER, SAFE RETURN DOUBTFUL. HONOR AND RECOGNITION IN CASE OF SUCCESS.  Ernest Shackelton
Am I going to lose a limb? Probably not.  Will there be blood, sweat, tears?  Um, maybe some tears and um, maybe a little sweat.  Will there be triumph, success and honor?  You bet!  My adventure will certainly push the bounds of comfort, civility and strength.  Modern conveniences will be left behind and I will test myself with the simple tools of cooking: flame, pot, and the sensitive tip of my pinky finger.  I will scald milk, cool milk, and add active, live cultures.  I will sterilize jars, incubate and in the end, if I am lucky I will have my very own homemade yogurt.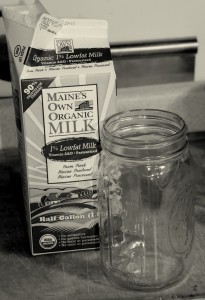 Working with milk is always a challenge…for me at least.  Things like custard, flan, cheese, these things are mysterious.  They usually involve a lot of stirring, cooling, and the ,oh so scary potential for, boil over or scorch!   Scald, curdle, these terms require some thought and attention.   Nuance is the key to the dairy world.  We wait for bubbles, and foam.  We watch and stir and stir and stir some more.  We adjust heat up and down.  We think about proteins, sugars and fats.  We marvel at the process as a liquid forms a solid.  We contemplate physics and maybe even the laws of thermodynamics.  We become part of something bigger than ourselves.  In the end,  we are the proud parent of delectable dairy delights, all the stirring, waiting and attention pays off in to creamy, smooth, often sweet heaven.
Shackelton understood this concept, this concept of stirring and waiting, watching and hoping.  He understood risk, the possible loss, the potential for failure and age old adage by the skin of one's teeth.  Like Shackelton, I too, risk, wait, stir, hope and rely on my wits. Sometimes it is all honor and recognition, sometimes it is not.  Sometimes I just escape the recipe by the skin of my teeth.  My yogurt in its first incantation,…not so good.  Had this been the Endurance we would not have returned.  My second attempt…perfection.  Will I go there again, to that scalding, stirring, waiting world of dairy, yes.  Whisk in hand I will take on cheese, and custard.  I will not cower in the face of casein and like any true adventurer muster forward with culinary will.
At the River Driver's we take our food adventures seriously.  We are resourceful, creative and do what we can with what we've got.  We do not believe adventure means hardship, hardtack and hazard.  You can adventure during the day and adventurously dine at night with us, the River Driver's Restaurant.
3 Responses to " By the Skin of My Teeth: Making Yogurt in Northern Maine "
Trackbacks & Pingbacks: