Here, at the New England Outdoor Center, we pride ourselves in providing everything you need for an unforgettable outdoor adventure. Located in the heart of the Maine woods, in the shadow of Mount Katahdin, we're sure our whitewater rafting trips and snowmobile trails will thrill you, our moose and wildlife viewing will amaze you and the memories of your trip will last a lifetime. That's why we're always happy when we get letters and emails from visitors who have enjoyed an unforgettable vacation experience with us. We'd like to share some of them with you.
---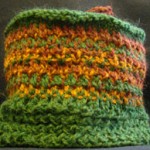 Hi from a very snowy Newport. Thank you so much for such a great weekend. ALL of us had a great time. Be sure to let us know when another fibery weekend is ready. I am exploring all the websites you put on the wine tasting paper – you worked hard to pull all that info together. When Joan gets back from Florida, we will take a couple day trips – Brownville and Unity, for sure. Thanks again for the weekend and all the planning that went into it. Time for Jeopardy and a 'few rows!!"
Charlene
---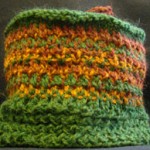 Sarah….I want to extend my personal thanks to you for making our Chicks with Sticks weekend such a delight. You went to a great deal of work to get it organized. Such a shame you didn't have a larger crowd. But, for what it is worth our group truly had a great time and loved the idea we could stay in our own cabin. I found the forget-me-not shawl. It is beautiful. after vacation I will seek the pattern out again to see if I am up for the challenge. After messing up a few of the swatches, I am not so sure I am an experienced knitter anymore. My Mom always told me I learned to knit before I tied my shoe…..I just grew up knitting. last night when I saw the beautiful moon, I thought of your husband and hoped he was warm and safe on the Mountain. Thank you again for your help and instruction. If you do this again in the fall, could you let me know the dates early, so I can schedule my fall Florida trip around your weekend.
Joan Fowle
---
Hi Sarah,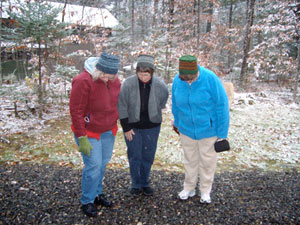 Just wanted to send you a note to, once again, thank you for the fun time we had on the knitting week-end retreat. Good friends and good food always make for good times and we had lots of both. The cabins were wonderful. The view from the living room was beautiful and we loved the gas stove, it made it cozy in the evening. I enjoyed all the many knitting activities. I have NOT completed my hat as yet, but I will, I promise. I am sending a pic of my three cabin mates showing off their hats which they all DID complete. ( sorry the first pic is blurry) Oh well, as I said, I do not look at knitting as a competitive sport, some of us are just slow and that's all there is to it. You and Beth and your gal chef were all great hosts. Lots of enthusiasm in all you did for us. I hope you will be doing the week-end next year as we are looking forward to coming again. Louise and I are also looking forward to your visit to the County. Good food awaits in one of our many restaurants and fabulous yarns are calling from our two yarn shops. Hope to see you soon.
— Jackie Washburn, Maine
---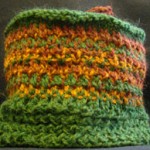 I wanted to thank you again for a wonderful weekend. I hope you plan to make this an annual event. We will definitely be spreading the word. I finished my hat yesterday and brought it to school today to show everyone. I have even started my second one. Thank you again. I am looking forward to "Chicks with Sticks."
— Karen Snyder Newport, Maine
---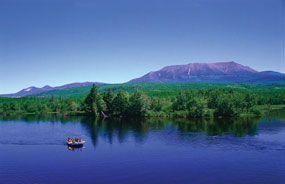 Took my husband rafting on the Penobscot for his birthday this past weekend and we had a blast! We camped at the beautiful Penobscot Outdoor Center which was great but next time I will look into a cabin so we can bring our yellow lab along as dogs are only allowed in the cabins. Our guide was David Wells and he was wonderful. Very knowledgeable about the river and the surrounding areas and he took good care of us all. We did a lot of swimming but the water was beautiful so we enjoyed it! We hope to come back soon and do it all over again! Everyone was so kind and friendly that I would gladly recommend NEOC to anyone looking for a fun outdoor adventure!
— Robin Racette Donahue New Hampshire
---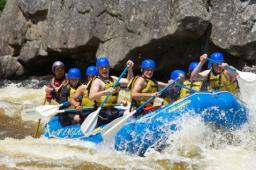 Recently just came back from a two-day rafting trip on the Penobscot with NEOC. We did the whole river on Saturday and the dirty double on Sunday. We stayed in one of the Twin Pine Lodges which are simply amazing. Very clean and well maintained. As for the rafting itself, we found it very well organized and everything was explained very well before hit the water. As for the guides, I had the pleasure of rafting with both Kathy and Jenny who were both very cool and very knowledgeable of the river which is a plus. Overall, the trip was great and I would definitely chose them again!
— Olivier Caron-Cyr St. Thomas, New Brunswick
---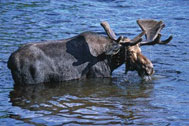 Kath and I had a SUPER weekend — from the serenity of the cabin tents at the POC, to Becca's capable driving thru the thrills of Exterminator, et al, to great meals at the River Driver restaurant … and finding a bull moose up at Sandy Stream Pond on Sunday AM, it really felt like a "complete" adventure weekend! Can't wait to bring the kids and extended family next time!
— Peter ScanlonBoston
---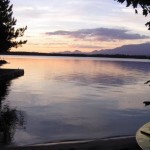 Hi all, we just got back from a wonderful vacation and just wanted to thank you!!! Everything was just great, from the cabin to the all the people we met, Mainers or not, the beautiful lake, and the mountain. A vacation we will remember. Thank you again from Carla Jon Greg Francesca and Gabriel.
— Carla
---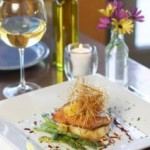 We had a great weekend. The pros: beautiful lodging (con: there is so much to do outside that we didn't spend enough time in the house); fantastic meals at the restaurant (con: ate too much – okay, WAY too much); helpful, friendly people (no down side here); wonderful location (con: still sore from climbing Sentinel Mountain – but it was well worth it). How lucky you are to live in such a beautiful place! We hope to come back in the spring with the whole family. So, thanks!
— Rebecca
---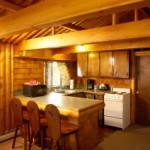 Had a great time! The small cabin was actually much roomier than I imagined it was going to be and we all enjoyed the canoes and kayaks. Beautiful surroundings, wish the weather had cooperated. Everyone was helpful and friendly. Twin Pines was fantastic. I will definitely recommend Twin Pines to friends and family. We live in Maryland and would love to visit again. Twin Pines during the week is the place to go. So beautiful. I enjoyed the moose tour as well. Nick was a fantastic host.
— Cynthia M. MalcolmsonMaryland
Back to About NEOC