Customers Rafting on The Penobscot since 2006
The Lower West Branch Penobscot
We put on at class IV Nesowadenahunk Falls and raft a little over six miles to a river access called Nevers Corner. We'll explore riverwide waterfalls, surf, play on natural waterslides, and stop for a riverside picnic along the way-we might even see an eagle or two! Because there are multiple routes through all of the rapids, our trips on the lower river have something for everyone from very mild to wild!
River Features:
Class III Fisherman's drop a Nesowadenahun falls
Class IV Raft-Line Drop at Nesowadenahunk Falls
Class I Nesowadenahunk Rips
Class II Nesowadenahunk Stream ledge slide
The Abol Flatwater and Abol Ledges Picnic Area
Class II Little Abol Falls
Class III BIg Abol Falls
Class II LIttle Pockwocamus Falls
Class III+ Big Pocwockamus Falls
The Upper West Branch Penobscot
The upper river contains 10 major rapids and covers just over six miles. This section of river is sure to get the adrenaline flowing, blood pumping, and temperature rising! We begin at Mckay Hydroelectric station and make our way over some of the most technical class II-class V whitewater on the east coast before taking off the water downstream of Big Ambejackamockamus falls.
River Features:
Class V Ripogenus Gorge
Class IV Heaters
Class III Little Eddy Rapid
Class IV Troublemaker Rapid
Class IV Bailing Eddy Rapid
Class V Cribworks Rapid-Considered the Fourth most technical rapid in USA
Class IV The Arches
Class III Big Eddy Rapid
Class II Little Ambejackmockamous Falls
Class IV Big Ambejackmockamus Falls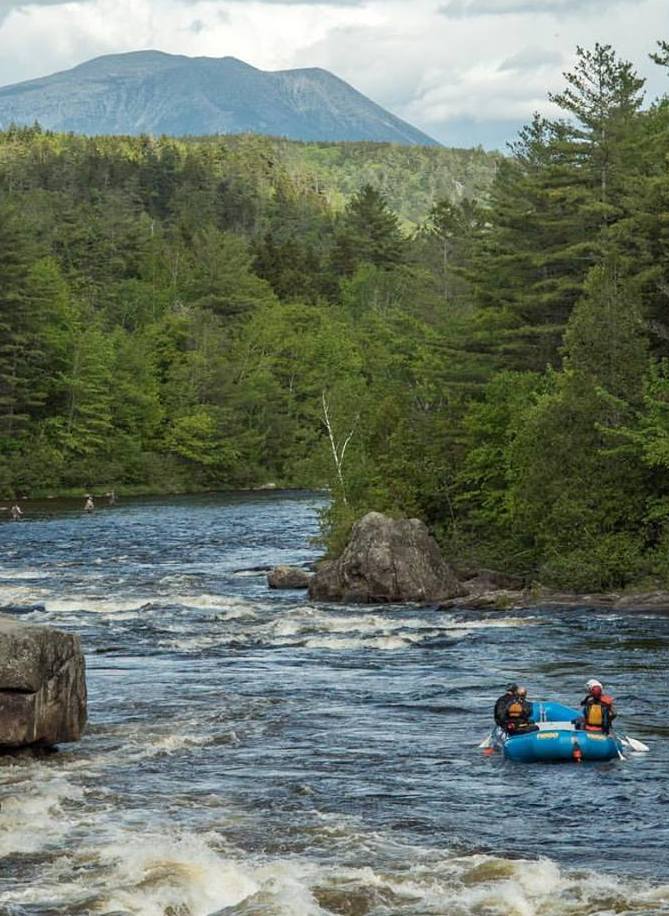 Rapids occur when fast moving water meets slow moving water
Rapid Classes are based on 3 main characteristics:
Gradient- The steepness of the rapid
Obstruction- What is on the riverbed slowing water down
Constriction-The width of the river
The Classes:
Class I- Swift moving current with a riffling surface and minimal obstructions require minimal navigation
Class II- Rapids with small waves, channels that are obvious without scouting. May require paddling and light navigation.
Class III (+/-) - 2 to 4 foot waves, small holes, exposed rocks, requires  some paddling maneuvers to navigate.
Class IV (+/-) -Longer rapids with 5 to 10 foot tall waves, large holes, specific routes, and require a moderate amount of paddling for navigating safely.
Class V (V-V.V)- Highly technical with major waves and recirculating holes, and narrow slots that require significant paddling for navigating safely.
The rapids of The West Branch of the Penobscot range from Class I to Class V
Meet Some of Our Customers
It's a Lot Of Fun - Come and join Us
What Do Our Customers Say
Had an amazing experience! The guides were a perfect mix of professional and fun. The campsites were comfortable and the facilities were full of extra activities to keep us occupied (pool, air hockey, instruments) when not on the river. Looking forward to returning soon!
Incredibly awesome!! First time on cat 4 and 5 rapids and loved it!! My wife thought it was a great experience. Go Gavin!!!
Absolutely loved it! Had Sam as our guide and was awesome! Can't wait to come back!