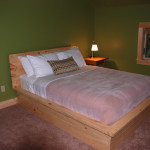 B&B STYLE ACCOMMODATION. Room with Queen Bed: Enjoy a Great nights sleep in a Lodge Room at NEOC. Quiet private room, extremely comfortable bed, shared bathroom. Wake up rested and fuel up with a Breakfast Fit for Marathoners – which is included with your Stay. Questions? Call 800-866-7238
$139/night – Best Deal Book Now!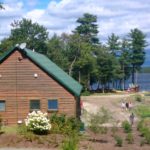 PRIVATE Cabin: How about organizing a group of friends to travel with you and have a great weekend – Premium Cabin has a full kitchen, 6 queen beds, 3 twin beds, located in 3 private bedrooms and one lofted sleeping area. Marathon Breakfast Included. Sleeps up to 14 people. Call 800-766-7238 if you have any questions.
River Drivers Restaurant

Onsite at the New England Outdoor Center "NEOC" there are a number of things to do including dining at The River Driver's Restaurant and Bar – The RD is an award-winning restaurant serving. Bring friends, family, young and old and in-between. Enjoy a wide range of dishes before or after the Millinocket Marathon prepared in-house by our chefs. Everything from 1/2lb homemade burgers for $10 to Crab Stuffed Haddock Roulade for $27.