The Great White North is Calling!
The Magic of Winter Is Alive and Well in the Katahdin Region
With large, comfortable, fully equipped cabins, and an unlimited selection of outdoor activities, New England Outdoor Center (NEOC), bordering Maine's magnificent northern wilderness, is the perfect destination for a family winter getaway, especially amidst COVID. On a recent trip to the Katahdin Region, my family was fortunate enough to spend three nights in a large cabin on the shores of Millinocket Lake, staring directly at Katahdin, Maine's favorite mountain. Because we wanted to enjoy our time with other families without sacrificing safety, we each rented our own spacious NEOC cabin, enjoying time in the outdoors during the day and evenings around the bonfire. Some of the great perks of NEOC—they have an exceptional restaurant serving dine-in or take-out meals, they are pet friendly, so you can bring your favorite furry friend, and because of their design – 20 spacious cabins spread out over a 1400 acre resort – they are the perfect design for a COVID-safe vacation.
The friendly staff at NEOC consists of experts on winter fun and they have a knack for making winter magic. In the era of COVID, families staying at NEOC have the luxury of staying in separate, socially distanced cabins and enjoying the bounty of the outdoors during these special winter days. As an added benefit, NEOC recently started a 3-Step Clean, Disinfect and Protect (CDP™) system using ecologically friendly cleaning, disinfecting and protecting products that are proven to kill 99.99% of gram-negative and gram-positive bacteria and viruses on surfaces, meaning that your stay at NEOC has added protection.
Here's a roundup of just a few of the great winter activities available to families during a winter getaway to NEOC.
Bonfires – Evening bonfires are a huge hit with the families. They provide a warm place to gather in the safety of the outdoors, with masks and social distancing protocols in place. How about roasting hot dogs and marshmallows with a view of the brilliant night sky?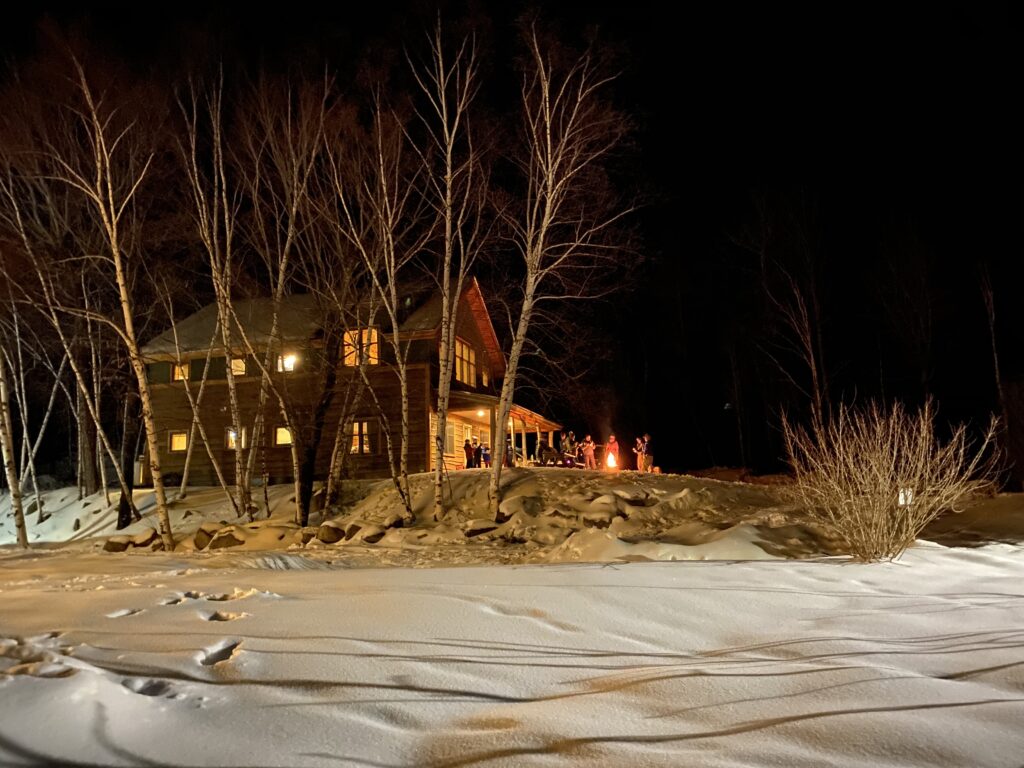 Dark Sky Sanctuary – The region surrounding NEOC was recently designated as a Dark Sky Sanctuary by the International Dark-Sky Association, and the area is world-renown not only for its night skies but for its Northern Lights. In fact, the area around NEOC is home to some of the darkest skies east of the Mississippi, and astronomers from around the world have been flocking to this region for years to view the exceptional night skies. There is no better place to look at the stars than from the shores of Millinocket Lake on the NEOC property.
Canadian Snow Shelter or Quinzhee – Try your hand at building a quinzhee, also known as a Canadian snow shelter. These traditional winter shelters are made from loose snow that gets shaped and hollowed into a protected and cozy winter shelter. Once built, a quinzhee provides hours of outdoor fun, shelter from the elements, and a sweet place to sip a cut of hot cocoa.
Ice Skating and Ice Hockey – This winter, the capable staff at NEOC have created a huge outdoor ice-skating rink right on the lake and steps away from the cabins. This rink provides families staying at NEOC with a perfect place to enjoy hours of outdoor fun. You really can't beat ice skating and ice hockey on a wilderness lake with views of Baxter State Park's mountains and surrounding beauty.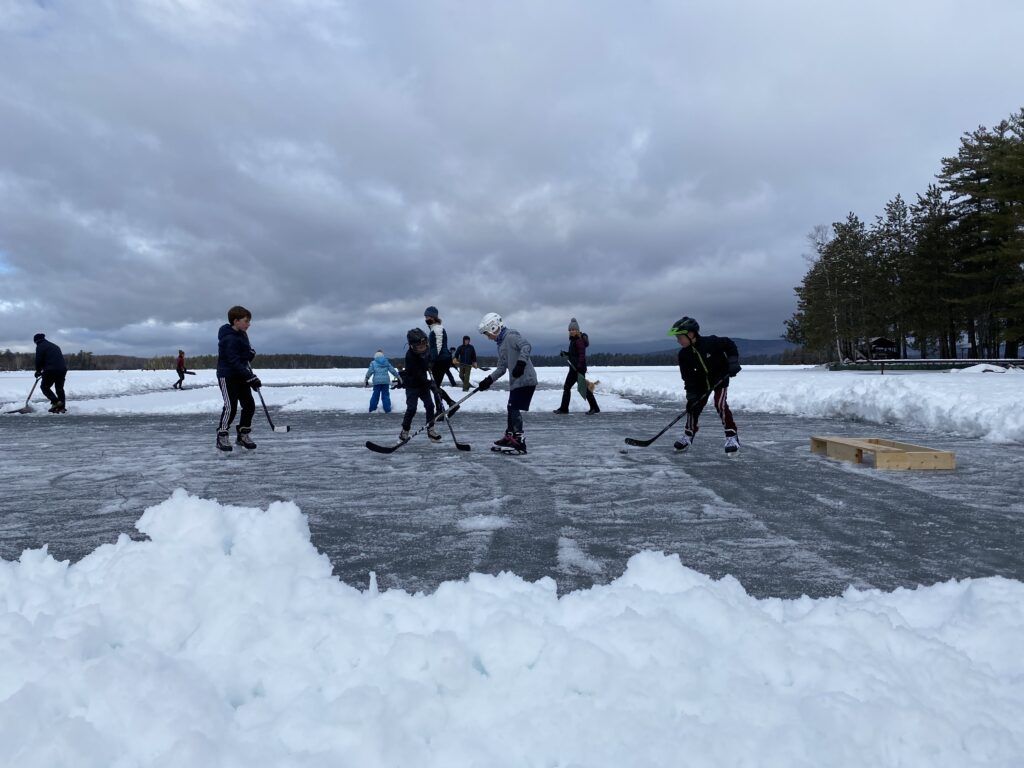 Ice Fishing – NEOC provides ice fishing gear for families who want to try their luck catching a fish through the ice! There are plenty of ice fishing opportunities all around the Katahdin Region. Try your hand at catching a lake trout, a cusk, or a pickerel.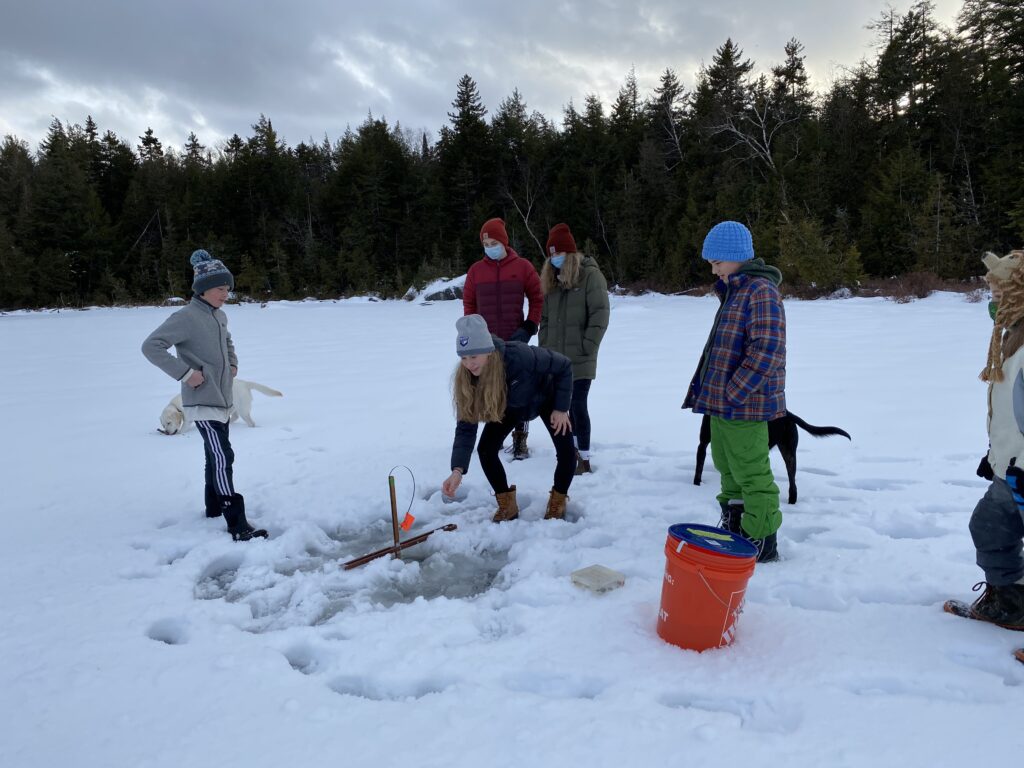 Fat Bikes – Studded snow tires make these bikes an outdoor adventure on the snow. If you haven't tried fat biking, NEOC is a great place to give it a try. They have a whole fleet of bikes available for renting, either by the day or by the hour.
Snowshoeing/ Cross Country Skiing – NEOC is adjacent to the Katahdin Area Trails, which provides miles of groomed cross-country and snowshoe trails. Don't miss out on the chance to explore this phenomenal new trail system.
Snowmobiling – The Katahdin Region is one of the epicenters of the Maine snowmobiling world. NEOC offers snowmobile packages as well as 3-hour guided tours. Don't miss out of the chance to get into the backcountry with a snowmobile for up close adventures in Maine's extraordinary Katahdin Region, where wildlife and scenery are everywhere!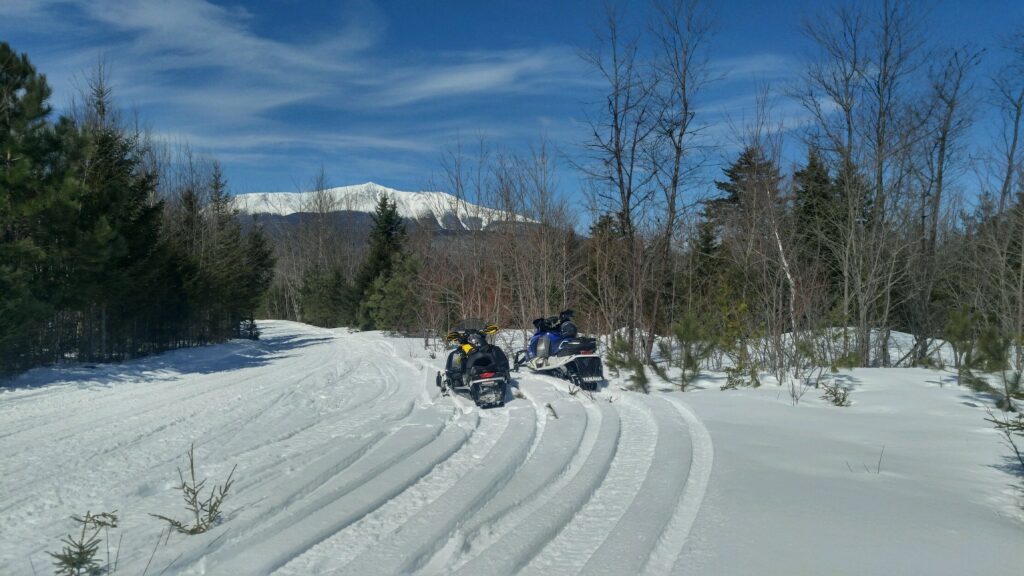 For more information, reach out to the friendly folks at NEOC.
The COVID-19 pandemic has certainly handed us some major challenges, setbacks, and heartbreaks, but if your family is looking for a safe, comfortable outdoor adventure, then the staff at NEOC is here to provide the safety, comfort, and amenities to make your stay memorable and fun. The Great White North is not only available, it's accessible!