5 Small Cabins: Little & Big Mud, Wadleigh & Grant Brook (sleep up to 6 people).  Fox Den (sleeps up to 4 people)
These cabins are perfectly designed for couples, families or groups of 4-6 people. The original cabins (4 of them) are cozy, have lots of character and some come with a spectacular view of Millinocket Lake and Katahdin. They are equipped with full beds plus 1 or 2 sets of bunk beds, which are extremely popular with the kids (we'll let you decide who sleeps on the bottom).
Fox Den one of our new cabins has one bedroom and a convertible couch in the living room to sleep up to 4.  This small cabin is in a wooded location and is a 2-3 minute walk to the lake.
Additional Photos:
---

Click to view large image
Number of People
1
2
3
4
5
6
Weekly
Small Cabin Rates
245
245
245
245
275
305
1372
*(Prices are flat rate and per night)
Prices do not include 9% Maine sales tax.
Rates are flat rate based on number of guests in each cabin.
Kids under 12 stay free.
Pre-purchase dinner at the River Drivers Restaurant – for $30 includes limited choice entree dinner, bread, dessert, non-alcoholic beverage and gratuity.
Minimum 2 night stay on weekends in winter Dec-Mar (Fri.-Sat)
$5 pp/per night resort fee, includes children
Check-in: 3:00PM or later. Check-out: 10:00AM (NO Smoking)
DOGS: $20 per dog, per night (includes bed, bowl and treat. WOOF!)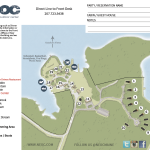 Take a peek at a map of our site.
Small Cabins | Large Cabins | Premium Cabins | Coveside Lodging