When I moved to T3 Indian Purchase most people commented on the prevalence of moose in the Maine North Woods…"watch out for moose" they'd say.  Frankly, they should have been saying "watch out for bears".  Since moving to the region three years ago, I have seen more bears than moose and I am sure it has everything to do with my BIRDFEEDERS!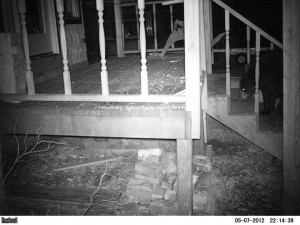 Most of the bears I see are on my porch or running through the backyard, one time with a pair of new cubs!  In my greenhorn days, I once left a suet feeder on the inside windowsill, and awoke to the mad barking of my dogs at 2:30 in the morning. I think you know where this is going.  We( my husband and I) ran downstairs and shut all the windows in our fright. In the morning…you can see the damage of our screen, yes the bear was clawing his/her way through the screen towards, I am sure in his/her mind the treat of all treats, SUET!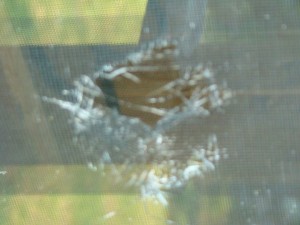 Who could blame him?  I have also been out walking my dogs and encountered a poor bear who I must have startled and he/she ran across the road not 50 feet away!  Close encounter for me have been common, or more common then when I lived in the southern part of the state, and while I am wary of such a powerful creature and prepared to hopefully offset any aggression, I do love seeing them.  When you come to visit us, there is always the possibility to see black bear. And seeing as our last blog post gave justice to the moose, we figured it was time to honor the black bear.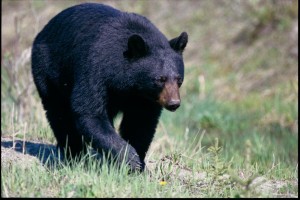 Black Bears are the smallest of three species on the North American Continent (Brown/Grizzly & Polar Bears the largest), are the most wide spread and the only bear found in the Eastern United States.
Males  average between 250-600lbs and measure between 5ft and 6ft tip to tail. Females average between 100 and 400lbs and measure 4-5 feet tip to tail.
They require forested areas for protections and are amazingly adaptable to areas of human development.  They are considered omnivores (eat both meat and plants)  and feed on a wide range of vegetation including early green grasses, clover, and the buds of hardwood trees.  They also seek out fruits and berries in the spring as well as the beech nuts, acorns and hazelnuts in the fall. To supplement their vegetarian diet they eat insects such as ants and bee larvae as well as small mammals.  Bears are not considered efficient hunters but have been known to take young deer and moose in the late spring.
Black bears can live up to 30 years in the wild .
Black bears breed between May and August and females have a two year reproductive cycle once they reach sexual maturity at age 3.
Bear cubs are typically born in Jan -Feb in the den and weigh ~12 oz at birth. Bears can have anywhere from 1-4 cubs.
Newborn cubs are born with blue eyes that eventually turn brown.
Bears can remain in their winter dens up to 5 months without eating, drinking or eliminating bodily waste.